Sunfolding's pneumatics
One unique tracker design on display at Intersolar 2020 back in February was the bellow-actuated Sunfolding single axis tracker. The bellow, manufactured with a DuPont polymer, uses no motors to actuate the table, and relies on off-the-shelf pneumatics to inflate the bellow. The company recently upgraded its initial design with the Sunfolding T29, which uses only half the actuator bolts, weighs 20% less, and requires 15% fewer posts per MW compared to its predecessor.
The company is filling a 100-MW pipeline now and claims a 99.9+% uptime across the first 19 million hours of cumulative operation data. Sunfolding operates in the United States and Australia. In October, the company closed a $32 million Series B growth funding round involving G2VP and Macquarie Capital.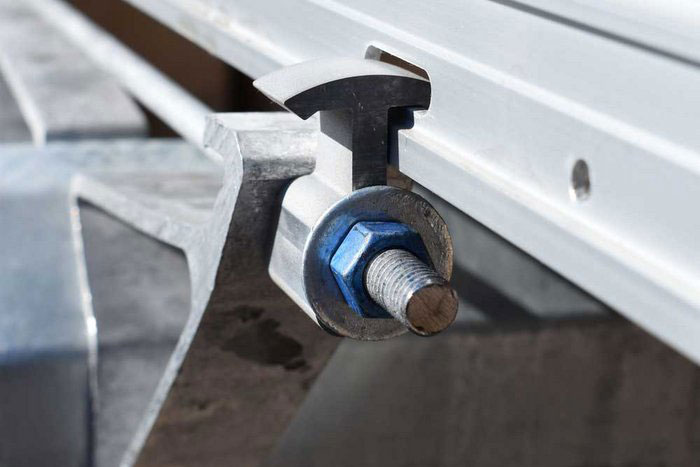 Array Technologies' retrofits and RapidClamp
Array Technologies, the granddaddy of single-axis trackers, is proving to be more resilient than some newer designs. The company recently repowered a portion of OCI Solar Power's 39-MW Alamo I solar farm, near San Antonio, Texas, with DuraTrack HZ v3 single-axis solar trackers and bifacial panels.
The retrofit design used the existing infrastructure including the foundation and pilings, inverters and other balance-of-system components from the single- and dual-axis Ercam trackers originally installed. "An upgrade of this magnitude is definitely a first for us and perhaps for the entire solar industry," said Charles Kim, the CEO of OCI Solar Power, in a statement.
ATI recently launched RapidClamp, a patent pending single-bolt PV module clamp technology that decreases installation times. "Our team has achieved an installation record of 11 seconds per module," said Lucas Creasy, vice president of engineering at Array Technologies, in a launch statement.
ATI has 30 GW of trackers installed or in fulfillment. One recent project is the 200 MW Wellington solar farm in Australia, which includes bifacial panels.
RBI Solar has redesigned Sunflower
RBI has redesigned its Sunflower or SAT-2 single-axis tracker with modified LO95 L-Jaw couplings and a Hytrel "spider" element that eliminates the need for torsion dampeners. The result is that the tracker can climb North-South inclines up to a 10 percent grade, with rows composed of up to 120 panels. With less civil engineering and construction, the LCOE for the tracker is far lower than that of the competition, the company reckons.
The Sunflower rows feature one-in-portrait configuration, with table tilt of 55 degrees. RBI offers multiple foundation designs to accommodate any site demands, the company says. Thus far, over 100 MW of the tracker have been commissioned, the company tells us.
Mechatron Solar brings tracking to carports
The massive 100-panel Mechatron Solar dual-axis tracker is gaining traction as a novel carport solution, thanks in part to the small footprint of the single mast design of the gearless M18kD model. One recent installation near the San Francisco airport included five of the 26 kW trackers, EV charging and plans for battery storage, reducing the office building energy use by 95%, according to Michael Fakukakis, the CEO of the Stockton-based company.
Battling preconceptions about the reliability of dual-axis trackers because of past failures in Spain and elsewhere is the company's greatest challenge in the U.S. market, Fakukakis says. To combat customer wariness, the company is offering a guarantee of 99.6% uptime for a low annual fee. The dual-axis system yields 42% to 67% greater energy than a fixed-tilt array with the same number of solar panels, depending on location, he says.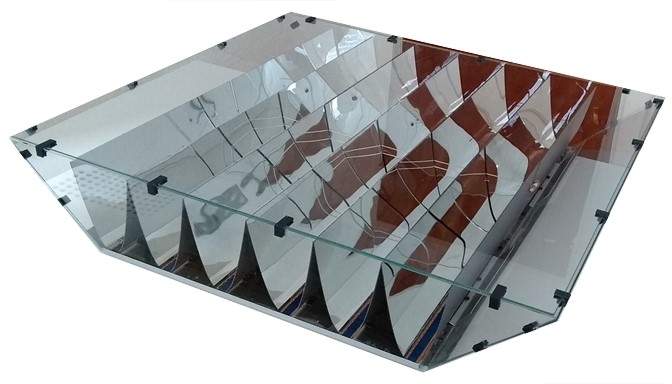 ISP Solar's concentrated tracking in a box
Montreal start-up ISP Solar has come up with a clever concentrating solar tracker-in-a-box that could reduce total system costs drastically, suggests Suneet Singh, the co-founder of Innovative Solar Power. The patented tracker design is based on conic waves of mirrored aluminum that focus light 20 times on sliced single-junction monocrystalline silicon cells.
The unusual design includes a large bus conductor beneath the cells and a patented multi-layer deposition method for collector lines that reduces resistance loss. As a result, the cells emulate the efficiency of multi-junction cells. At the same time, the trough of sliced cells used in a unit are only 5% of the volume a traditional crystal silicon panel, helping to cut total cost, Singh says.
The 85-watt panels operate on 1,500 volts and are lightweight enough for rooftop installation, yet can withstand a 140 mph wind, the company says. The IP66-rated enclosure box is constructed of plastic but has a glass top sheet. An aluminum block forms the bottom of the box and serves as a heat sink. Field tests of the tracker will be released within a few months' time, Singh notes.
OMCO Solar's perfect mid-size solution
While they didn't reinvent tracker design, OMCO did achieve a system that can span 30 to 120 module rows and that includes incremental yet crucial upgrades to improve install times and tamp down costs. The bearing is new OMCO IP that had people buzzing at SPI. It arrives on site preassembled, installs easily with a few bolts and is easily adjustable if posts are misaligned, covering eight dimensions of adjustment, such as post height, north/south and east/west offsets.
"We designed unique bearings which compensate for errors in post placement, longer rows for lower cost and higher reliability as well as universal module mounts which reduce installation labor," Kesler says. "And key components which may need to be replaced during the trackers' 35-year life are COTS [commercial off the shelf parts], so customers can be confident they will be available if needed, even years into the future."
The universal module mount is another slick innovation. This simple lightweight clamp and bolt design can cover any module frame from 25 mm to 50 mm in height and up to 1.3 meters in width.
"The bolts can be tightened from below the torque tube, so there's no need for ladders," notes Kesler. "And in terms of getting it onto the torque tube, just place it on any part and align it as you install the modules. There's no guess work."
This also nicely removes any potential redesign headaches involving last second module supply changes.
Read more about OMCO's tracker in this Solar Builder exclusive.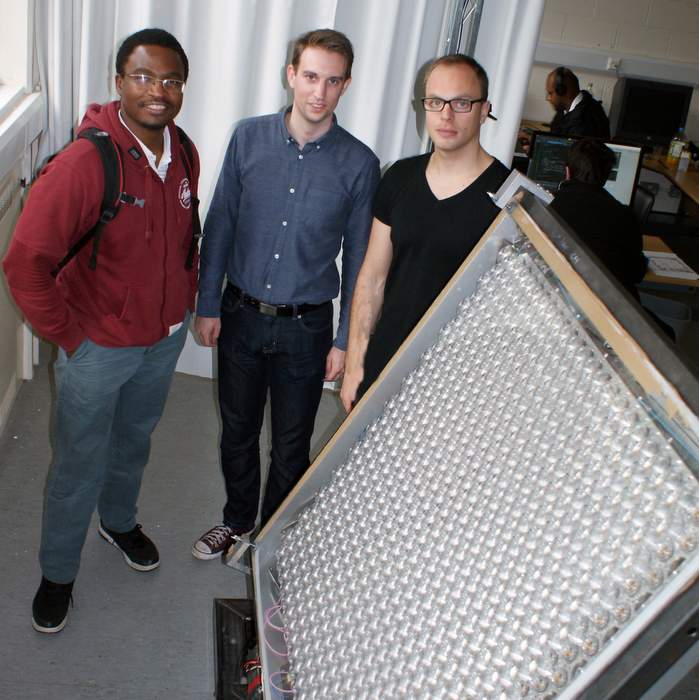 Chitendail's iRadiance concept
One emerging new tracker design is from Scotland's Chitendail, which involves another tracker-in-a-box design, but one that concentrates light onto multi-junction PV cells in the iRadiance tracker. The company claims a 31.8% efficiency level and is offering both 250 Wp and 585 Wp modules.
The module is designed for rooftop installations with a weight distribution of 15 kg per square meter.
"We are signed to supply iRadiance for up to 140 MW in Zambia, and we are nearing concluding negotiations for permission to install another 100 MW of solar in Southern Africa to supply the mining industry," notes Ainslie Chinembiri, the spokesperson for the Midlothian-based company.
Charles W. Thurston is a Solar Builder contributor based in Northern California.
— Solar Builder magazine
[source: https://solarbuildermag.com/products/seven-solar-tracker-system-tweaks-and-new-tech-to-know-in-2020/]