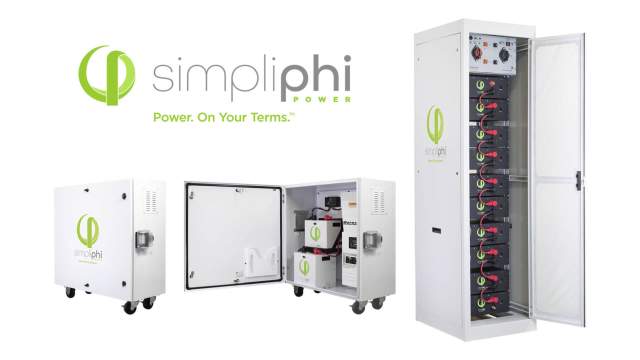 Building on nearly a decade of successful manufacturing and global deployments of high performance batteries, SimpliPhi is introducing a dynamic and scalable PHI High Voltage energy storage solution for commercial and industrial applications that offers the ability to tailor voltage, capacity and power output for project-specific performance. It supports greater control and reliability without toxic coolants or thermal monitoring to achieve peak shaving, load shifting, emergency back-up and demand response functions.
PHI High Voltage stacks feature modular battery building blocks that can be sized and scaled and installed without heavy equipment, instead of the one-size-fits-all, large, cumbersome battery banks common in other C&I offerings. In addition, when a building, facility or campus requires multiple voltage, capacity and power output parameters at different locations, each PHI High Voltage system can be optimized for that location's unique use case.
"It's a dynamic, modular system that can be built-to-suit each project," says SimpliPhi CEO Catherine Von Burg. "When commercial property owners and managers are able to tailor a storage solution to a project's requirements, they realize stronger financial returns and performance. As their project partner, it's important to us to provide solutions that deliver the outcomes they consider most important."
At SPI, the company will also debuted the newest addition to its mobile product line: The ExprESS. Like its highly sought-after predecessor the PowerBank, ExprESS is a battery-powered AC generator and Uninterruptible Power Supply (UPS) that stores electricity for use when power from the grid is unavailable or intermittent, including during emergencies and blackout scenarios. Fully charged, the ExprESS offers either 5.4 kWh/24V or 7 kWh/48V — a sufficient reserve to operate computers, appliances, AV equipment, refrigerators, power tools, fans, electric blankets and medical equipment for hours or days at a time. Because it is enclosed in a NEMA-3 rated cabinet on wheels, ExprESS can be deployed inside or outside in a wide variety of commercial and emergency use cases.
— Solar Builder magazine
[source: https://solarbuildermag.com/news/simpliphi-debuts-new-scalable-energy-storage-unit-to-tailor-project-specific-voltage/]