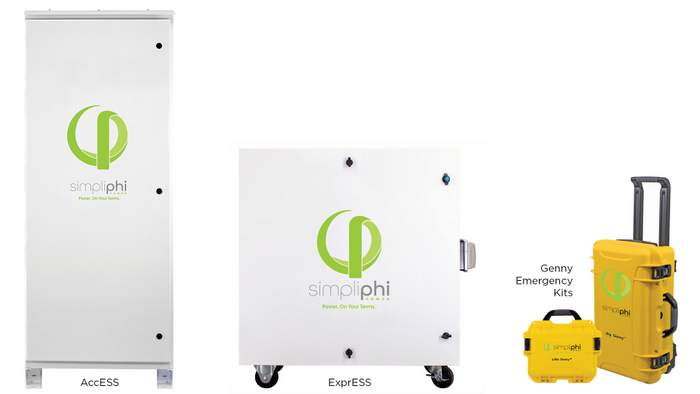 As a California manufacturer of safe energy storage and emergency power systems, SimpliPhi Power is extending its "Energize California" program — an initiative first introduced in June 2019 in response to statewide "Public Safety Power Shutoffs" (PSPS) announced by PG&E, SCE and SDG&E. The program will now run through December 31, 2019.
The company's goal is to continue to empower businesses and homeowners statewide by equipping them with the capacity to store and utilize power on their terms to make it through a PSPS, wildfire or any other grid outage. SimpliPhi's extended Energize California program includes special discounts on its popular fully integrated, pre-wired AccESS energy storage and management system, the ExprESS fuel-free mobile generators and the Genny portable emergency power kits. The Access, ExprESS and Genny's can be charged with any power source — solar, wind, the grid or a fuel-based generator.
"We were optimistic when we announced Energize California, hoping that the 2019 fire season would have run its course by the end of October. However, our new reality in California is one in which wildfire danger remains high for six months or longer during the year," explains SimpliPhi CEO Catherine Von Burg. "For home and business owners who own generators but have been unable to fuel them during the current 'no power, no pumps' emergencies, our solutions optimize generator performance and extend fuel reserves by turning generators into a charging source, rather than the source of primary power," explains Von Burg. "You can use your generator to charge up your AccESS, ExprESS or Genny and then turn it off until you need to recharge."
Addition to the program
A critical addition to the Energize California initiative is a new version of the fully-integrated AccESS energy storage and management system featuring Sol-Ark inverters. These units allow home and business owners to install whole-house/whole-business backup power as a UPS without going through the permitting process or obtaining an interconnection agreement. The system can be installed by a licensed electrician immediately to provide back-up power, and home and business owners can decide later if they also want to install solar.
To expedite delivery and installation, the company will continue to offer drop-shipping anywhere in California, and local pick up from its headquarters and manufacturing facility in Oxnard. Leading California renewable energy product suppliers altE, CED Greentech, Northern Arizona Wind & Sun, Soligent and The Power Store, UMA and WESCO are partners in the Energize California effort and are offering discounts on the AccESS, ExprESS and other equipment vital to building resilience and energy security in local, distributed, customer-sited energy storage systems.
— Solar Builder magazine
[source: https://solarbuildermag.com/batteries/simpliphi-extends-energize-california-discounts-in-response-to-wildfires-public-safety-shutoffs/]