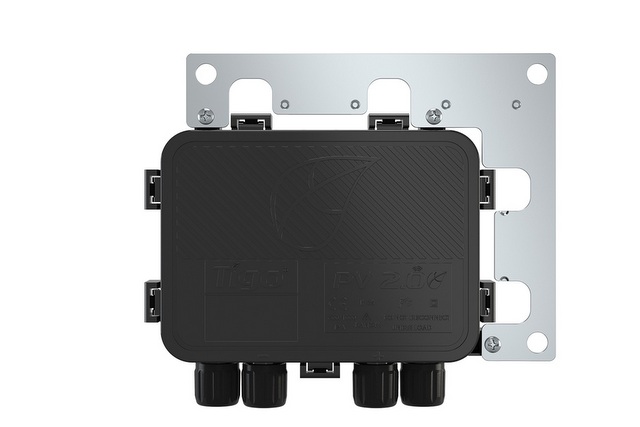 SMA and Tigo have announced support of a new SunSpec compatible module-level rapid shutdown unit, the TS4-F (Fire Safety). The solution joins the current TS4 platform with a focus on emergency responder safety. It uses proven MLPE technology from SMA and Tigo to provide a rapid shutdown compliant platform, strictly focused on NEC compliance.
Two options
Tigo and SMA are offering two options for installation: The TS4-F is integrated into a smart module. The TS4-R-F retrofits a regular standard module with a module-level rapid shutdown device and is available through SMA.
"We have learned that commercial installers often need rapid shutdown capability but may see less need for optimization or module-level monitoring. Thus, they are looking for a cost-effective solution to provide the necessary safety functions," said Nick Morbach, executive vice president of SMA's Residential and Commercial Business Unit. "The new TS4-F and TS4-R-F units in combination with our SunSpec compatible string inverters will meet their needs, offering a high-quality option to comply with the NEC 2017 rapid shutdown requirements."
The new rapid shutdown solution is a cost-effective way to fulfill UL 1741, NEC 2014, and NEC 2017 requirements – especially the stricter requirements for inside the array boundary that will be effective in January 2019. It will be compatible with the power line-based SunSpec Communication Signal for Rapid Shutdown, making it simple and robust. Using the existing DC wires between the inverter and module-level electronics as a communication channel will significantly reduce installation time.
The full system safety is enhanced by the integration with SMA's arc fault detection (AFCI). They join SMA's portfolio of products that comply with rapid shutdown requirements, including the Power+ Solution and the Rapid Shutdown System.
"We value SMA's collaboration to offer this solution for residential and commercial installers," said Zvi Alon, CEO of Tigo Energy. "We are confident that the safety features and cost-effectiveness of the TS4 platform will meet the needs of many customers."
SMA is planning for its U.S. string inverter portfolio to be fully SunSpec Rapid Shutdown compliant in time for customers to meet the module-level rapid shutdown requirements of NEC 2017, which will become mandatory in most states by January 1, 2019.
— Solar Builder magazine
[source: http://solarbuildermag.com/news/sma-tigo-offer-new-unit-just-for-module-level-rapid-shutdown/]