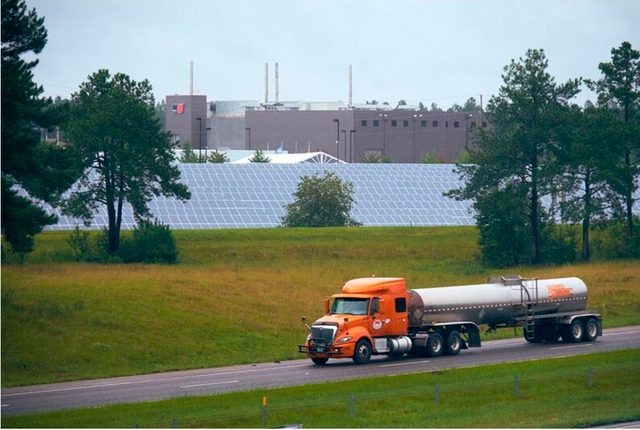 MTU America (a subsidiary of Rolls-Royce) held a ceremony on August 9 in Graniteville, South Carolina, to celebrate a 1.35 MW (DC) ground-mounted solar array installed on a 7-acre site. SolAmerica Energy of Atlanta designed and installed the system and will maintain the project for MTU America. The project will generate energy income for MTU America through a Bill Credit Program with South Carolina Electric & Gas (SCE&G), and was financed under an agreement with Key Equipment Finance, a division of KeyBank.
South Carolina Governor Henry McMaster and Congressman Joe Wilson attended the ceremony, along with other government and business leaders, and participated in "flipping the switch" with MTU America to officially launch the project.
Speaking on behalf of MTU America, Joerg Klisch, Director of Operations of MTU America, stated, "This is a very exciting project for MTU. We are committed to pushing the boundaries of technology in the power solutions we provide to our customers, and solar projects like this will be an important part of the power mix in the future. SolAmerica has been a valuable partner in making this project a reality."
SolAmerica Energy develops, finances, and constructs commercial and utility-scale solar photovoltaic projects. Based in Atlanta, Georgia, SolAmerica Energy has built solar projects for many of the leading companies in the Southeast and has developed projects for nationally recognized investors and owner-operators.
— Solar Builder magazine
[source: http://solarbuildermag.com/news/solamerica-energy-completes-1-35-mw-for-mtu-america/]