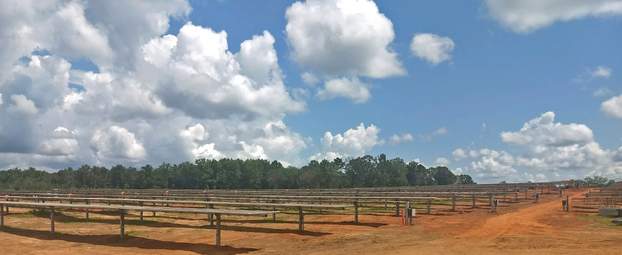 SolAmerica Energy installed Solar FlexRack's new TDP 2.0 Solar Trackers in eight solar projects located across the state of Georgia. The new Solar FlexRack 2.0 Tracker with BalanceTrac introduces a technology that increases overall system efficiency, array design options and enables increased energy yield. The TDP 2.0 Tracker design expands the number of modules per row (up to 90) and is compatible with 1,000 or 1,500V thin film or crystalline modules. It also enables the installation of shorter piles and a lower per-unit fixed costs for balance of system, significantly reducing project installation costs.
"We require high-quality solar mounting and tracking products and support services in our solar projects. Solar FlexRack has consistently met our standards for performance, reliability and durability," said Peter Corbett, Senior Vice President of SolAmerica Energy.
RELATED: Engineering Insight: Inside Solar FlexRack's second generation tracker
SolAmerica, a leading solar development, engineering, procurement and construction contractor based in Atlanta, developed and managed the construction of the solar project portfolio with the local utility. The projects are part of a distributed generation plan that enables commercial businesses to purchase sustainable, carbon-free solar energy.
"SolAmerica is playing an important role in working with the local utility to help companies throughout the state have the choice of clean energy through well-constructed, distributed generation solar plants," said Steve Daniel, Executive Vice President of Sales and Marketing of Solar FlexRack.
According to the Solar Energy Industries Association, in 2017, Georgia's national solar ranking was 22nd. Georgia has aggressively stepped up their solar program and today, the state ranks #10 with over 1.5 GW of solar installed and almost 4,500 employed in the industry.
— Solar Builder magazine
[source: https://solarbuildermag.com/projects/solamerica-energy-goes-with-solarflex-rack-tdp-2-0-trackers-for-eight-georgia-projects/]