Solar Data Systems, Inc., an official provider of Solar-Log hardware-agnostic energy monitoring, control, and management, has teamed up with EmaZys to be a supplier of the Z200 PV Analyzer. Solar Data Systems can offer local support and resources to U.S.-based customers.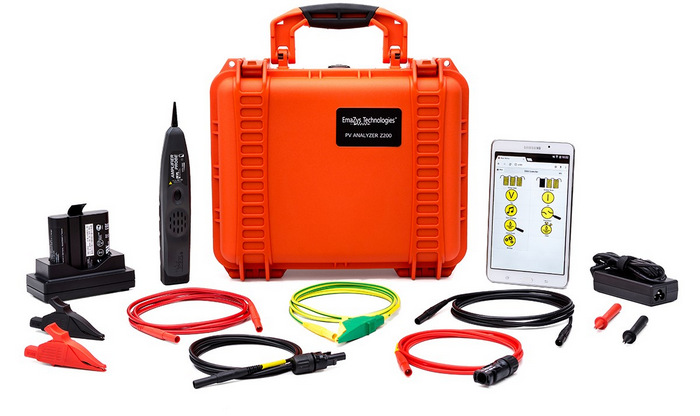 The Z200 PV analyzer is a new technology that not only detects plant faults and failures but also pinpoints the exact location of the failure within the array. This unique capability saves an average of 2.5 hours per troubleshooting task.
For an overview on why Solar-Log's agnostic monitoring services are so great, check out this free webinar we hosted in February. 
How Z200 works
Once connected and activated, the portable, battery-powered instrument will perform impedance spectroscopy between connected string terminals, as well as measure the terminal voltages and currents flowing under various DC loads introduced by the instrument. By combining the results from these various measurements using the on-board computer, critical faults in the system can be defined and located.
"We focus on being the ultimate Monitoring as a Service provider," said Silvia Blumenschein, CEO and General Manager of Solar Data Systems. "At Solar Data Systems you get the best of both worlds: a solutions supplier and service provider. We supply the tools needed to monitor solar power and provide needed services to support the growth of solar businesses and solar power. The EmaZys Z200 PV Analyzer was a natural fit for our product portfolio."
Major benefits of the Z200 PV Analyzer include:
• Dedicated data for fault finding, preventive maintenance & safety
• Super-fast verification of the PV systems overall health
• Potential failures can be detected and located in less than 5 minutes
• PID/TID estimates without dismantling modules
• Data for the overall health of a PV System, by measuring Rs, Riso, Voc, Isc, system Impedance with and without load, bypass diode test
• Built-In state machine for easy conclusion on measured data
• Positioning of Riso faults
• Positioning of disconnect
• Tone generator and cable fault finder built-in – up to 1000 V
• Check of connections, bypass diodes, PID, TID
— Solar Builder magazine
[source: https://solarbuildermag.com/news/solar-data-systems-now-a-provider-of-emazys-slick-z200-pv-analyzer/]