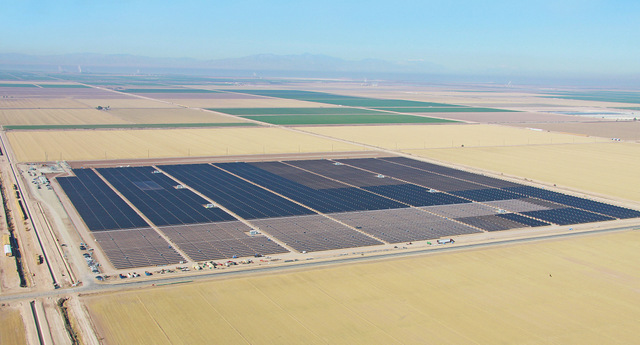 Solar Frontier Americas sold the 20 MW Calipatria solar power generation plant in Imperial County, Calif., to Southern Power and Turner Renewable Energy. Southern Power's ninth solar acquisition with Turner Renewable Energy, Solar Frontier America's Calipatria project, brings the partnership's overall solar capacity to more than 340 MW operating or under development.
Calipatria Solar Project is constructed with approximately 130,000 CIS modules mounted on single-axis trackers and has a 20-year power purchase agreement with San Diego Gas & Electric Company. The project is part of Solar Frontier America's 280 MW U.S. project pipeline. The company currently has a series of projects in various stages of development in the state of California.
Solar Frontier Americas Development, a division of Solar Frontier Americas with offices in San Francisco, California, and Reno, Nev., developed the Calipatria solar power generation plant. Construction on the project started in August 2015 and is expected to be completed in the first quarter of 2016. The solar plant is expected to be capable of generating enough solar energy to meet the electrical needs of approximately 5,000 homes in the US annually.
RELATED: Solar Frontier Completes 80-MW Thin Film Project 
Charles Pimentel, COO of Solar Frontier Americas, said, "This is our second solar project sale to Southern Power, a respected utility leader, and this transaction is another demonstration of the strength and acceptance of our product in the US market."
"Southern Power is building one of the most reliable and robust wholesale renewable energy generation portfolios in the US and we are pleased to add Solar Frontier America's project, Calipatria," said Southern Power President and CEO, Oscar C. Harper.
Solar Frontier Americas Development develops utility-scale projects installed with Solar Frontier's advanced CIS modules, which are manufactured in a fully automated plant with consistent precision and the highest level of quality. CIS modules are known to generate higher energy yields (kWh per kW peak) in real-world environments than conventional crystalline silicon technologies. Solar Frontier's projects have increasingly gained the attention of investors and project developers across the Americas.
Solar Frontier Americas is the U.S. subsidiary of the world's largest CIS solar energy solutions provider, Solar Frontier; Southern Power is a subsidiary of Southern Company, one of the largest utilities in the U.S. Turner Renewable Energy, owned by Ted Turner, teamed with Southern Company through a subsidiary in January 2010 to form a strategic alliance to pursue the development of renewable energy projects in the US. The partnership between Southern Power and Turner Renewable Energy has primarily focused on developing and investing in large-scale solar photovoltaic (PV) projects in the Southwest.
— Solar Builder magazine
[source: http://solarbuildermag.com/news/solar-frontiers-20-mw-calipatria-solar-plant-sold-to-southern-power-turner-renewable/]