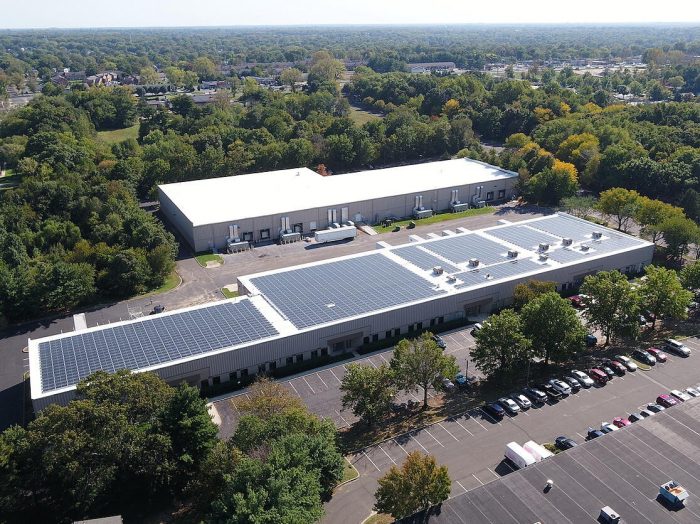 Asbury Park, New Jersey-based Solar Landscape has energized the first of 46 community solar projects approved by the New Jersey Board of Public Utilities (NJBPU) in Year 2 of the Community Solar Energy Pilot Program.
The active Delran community solar site, which will generate more than 800,000 kWh of energy in the first year, was approved for construction by NJBPU just over a year ago.
New Jersey's first active Year 2 community solar project is part of a portfolio of three installations hosted by Endurance Real Estate Group LLC. The Endurance projects will provide solar energy at a discount to over 600 local homes and apartments without the need for solar panels on residential properties.
"Endurance is leading the way on ESG initiatives, demonstrating our commitment to sustainability through renewable energy projects like this community solar site on our Delran facility, and two similar projects on our properties in Mount Laurel," said Al Corr, senior vice president and principal at Endurance Real Estate Group. "By expanding access to renewable energy for nearby residents, especially lower-income families, we are proud to serve as a good corporate neighbor and add even more value in the communities where we do business."
New Jerseyans in 16 counties can subscribe to receive lower-cost energy from Solar Landscape's 54 community solar projects that have been built or are under construction.
"We are excited to welcome more residents to community solar, especially those in disadvantaged communities who can power their homes with solar energy for the first time," said Shaun Keegan, Solar Landscape's CEO. "In partnership with commercial real estate leaders like Endurance Real Estate Group, we provide cost-saving solar power and lower carbon emissions, while helping companies achieve their ESG goals. Community solar is one of New Jersey's most shovel-ready clean energy programs. One year after this project was approved, it's providing valuable benefits to residents, and many more projects will be energized soon."
Local support for community solar
The discounted clean energy from the energized Delran project on the Endurance facility roof is available to residents in Cinnaminson Township, Delanco Township, Moorestown Township, Riverside Township and Willingboro Township, in addition to Delran. The Delran Green Team will hold an information session for residents on Jan. 9. Local leaders near the Delran project have praised New Jersey's community solar program for expanding access to renewable energy.
"It's exciting to see more community solar projects here in South Jersey. Thanks to initiatives like this new Delran project, residents of Burlington and Camden Counties who thought they could never access solar can have it at a discount from their electric usage rate," said Randi Orlow, the solar chair of Tri-County Sustainability Alliance, a regional Sustainable Jersey hub serving Burlington, Camden and Gloucester counties. "We are watching our region's clean energy transition in real time. In December, the Logan Generating Plant was demolished and today we're bringing solar energy online. We look forward to even more community solar activations in the area soon."
Delran Mayor Gary Catrambone said the project benefits all members of the community.
"We have been hoping to see a project of this kind come to fruition in Delran for some time so that residents who do not enjoy property ownership can still benefit from solar energy," Catrambone said. "This is a unique opportunity for a smaller solar project to demonstrate how well this process can work for everyone in our Delran family."
Delran Township Council president Tyler J. Burrell agreed, adding that the project advances equity.
"I am thrilled that residents can now reap the benefits of solar energy without installing panels on their roof," Burrell said. "This project is a large step to equitable solar energy, especially by opening solar to renters, condo owners and all homeowners."
Community solar allows residents to subscribe to a nearby solar installation that is often hosted on a commercial property. The NJBPU's Community Solar Energy Pilot Program, part of Governor Murphy's clean energy agenda, expands access to renewable energy for those who previously could not install solar panels for reasons such as high costs, lack of roof control, or a shaded property. The program allows the commercial sector to expand energy equity and environmental justice by allowing subscribers – most of whom are low- to- moderate-income (LMI) – to power their homes with renewable energy and participate in the fight against climate change.
Residents who subscribe save at least 21% guaranteed on their electricity usage. Endurance's projects will generate 2.82 MW of renewable energy. In its first year the company's portfolio is projected to generate over 3.4 million kWh of energy for residents.
— Solar Builder magazine
[source: https://solarbuildermag.com/projects/solar-landscape-activates-endurance-community-solar-project-new-jersey/]