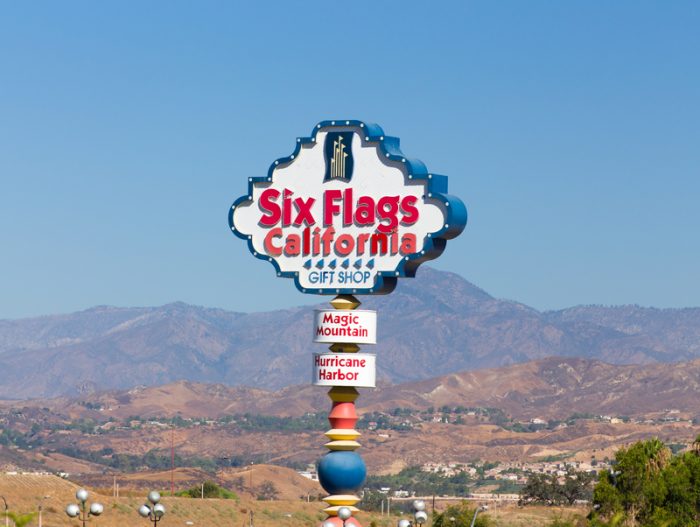 Theme park operator Six Flags Entertainment Corp. has joined forces with Solar Optimum and DSD Renewables (DSD) to install a new 12.37 MW solar carport and energy storage system at Six Flags Magic Mountain in Los Angeles. The project will rank as the largest single-site commercial renewable energy project in California and largest solar project allocated toward a for-profit organization in the United States.
"Here in California, innovation and climate action go hand-in-hand," said California Gov. Gavin Newsom. "Our success as America's economic powerhouse and the world's fourth largest economy is built on our ambitious transition to a cleaner, greener future. Six Flags' commitment to clean energy is the type of work that will power our future and ensure our kids have a healthy planet to call home."
In addition to the solar carport being built over the main guest parking lot, the project also includes a battery storage system that will produce 1.958 MW of power with 7,886.3 kWh of capacity that can be deployed daily. The system will produce 20.8 million kWh of energy annually. As a result the park will be able to offset 100% of its energy usage with solar power.
"This is a thrilling day for Six Flags as we advance our commitment to environmental stewardship, substantially increasing solar power generation capacity at our parks," said Jason Freeman, Six Flags VP of operations, public safety, engineering and maintenance. "Six Flags has placed a high priority on efforts to improve and protect the environment, leading the way for theme park companies around the world and capturing the attention of other private organizations that also have the power to drive solar projects. By partnering with experts like Solar Optimum and DSD Renewables, we can continue to improve our environmental programs with additional waste, water and energy reduction targets and initiatives."
In addition to the Six Flags Magic Mountain installation, two additional parks — Six Flags Discovery Kingdom in Northern California and Six Flags Great Adventure in New Jersey — have also developed on-site solar capabilities with over 30 MW of fully operational solar power systems installed. These three sites will rank as the largest volume of onsite Solar PV systems for any U.S. organization, with a combined total of 42.37 MW.
"We're honored to partner with Six Flags and Solar Optimum on this solar-plus-storage project through DSD's Developer Network and commend Six Flags' commitment to onsite renewables," said Danielle Fidel, senior director, developer network at DSD. "Using their parking lot for solar canopies will not only offset 100 percent of the park's energy use, it will also provide the added benefit of shaded parking for customers. A win-win for everyone."
For 62 years, Six Flags has been committed to protecting and improving the environment and its communities, striving toward the expansion of sustainability and ESG-related initiatives and efforts.
"Six Flags is already an onsite renewables trailblazer, and with this project, they will continue to break records," said Arno Aghamalian, Solar Optimum CEO and founder. "As utility prices inevitably increase, these projects reduce costs, decrease their carbon footprint and ultimately provide more value to the customer with much desired shared. The future of solar has never looked brighter, and we're excited to lead the change with our trusted partners."
— Solar Builder magazine
[source: https://solarbuildermag.com/projects/solar-optimum-dsd-renewables-installs-solar-carport-six-flags-magic-mountain/]