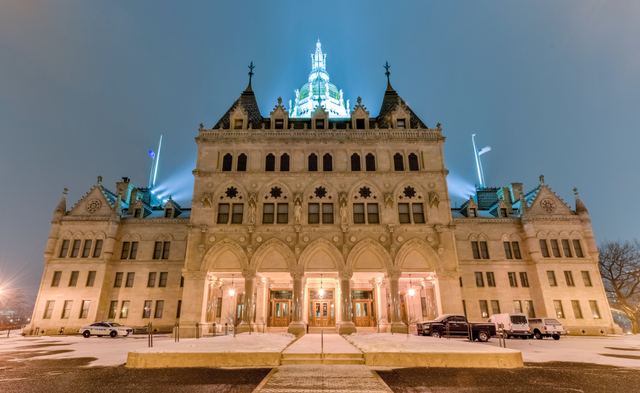 Solar workers and advocates from over a dozen companies across Connecticut filled the area in front of the Connecticut's Capitol Building's north entrance with signs reading "Save Solar Jobs," and "Fix SB9." The rally was organized jointly by Solar Connecticut and The Alliance for Solar Choice, with participation from at least a dozen national and local companies that install solar panels on Connecticut homes.
"Connecticut's solar industry employs more than two-thousand workers, generates tens of millions of dollars in tax revenue to the state, and helps consumers reduce their energy bills in one of America's highest energy costs states," said Mike Trahan, Executive Director of SolarConnecticut. "Despite what Governor Malloy and officials at the Department of Energy say, there's nothing wrong with the way solar gets done in Connecticut. What's wrong is proposed legislation that's heavily tilted toward preserving the status quo for Connecticut's electric power companies."
The workers were rallying to encourage state lawmakers to fix Senate Bill 9, which is the classic sleight of hand "clean energy bill" seen in many states that boosts the state's Renewable Portfolio Standard (RPS), while wiping out the favorable economics of net metering.  Only three weeks are left in the legislative session in which SB9 could be amended to avoid the loss of an estimated 2,000 solar jobs, advocates say.
Stephen Lassiter, spokesperson for The Alliance for Solar Choice, added, "Senate Bill 9 is a job killer. Connecticut should not go the way of Nevada or Maine, which ended net metering and lost thousands of jobs. To protect jobs and support clean energy, legislators should defend net metering and avoid any cap on solar investment."
— Solar Builder magazine
[source: https://solarbuildermag.com/news/solar-workers-rally-in-connecticut-to-try-save-net-metering/]