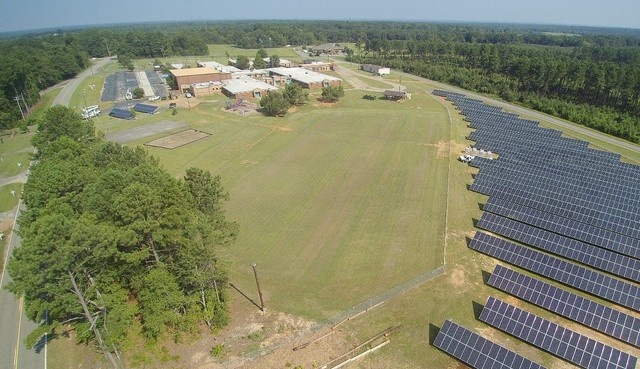 The Edgefield County School District in South Carolina is now the proud owner of a 515-kW solar farm that sits on the campus of Parker Elementary in Edgefield, South Carolina. The school's solar farm is the first large-scale solar installation in the county, which in addition to earning the school district approximately $165,000 each year from the sale of its electricity to the utility company, according to Edgefield School District, was able to be constructed at no upfront cost.
Designed, installed and commissioned by Southern View Energy, the project features 1,610 of Mission Solar Energy's high-powered solar panels which are spread over three acres of land at the school's campus. The Edgefield County solar array is capable of generating 736 kW of annual electricity, enough to power an average of 190 homes each year.
South Carolina Electric & Gas (SCE&G) is purchasing 100% of the generated electricity through a 10-year agreement. In addition to producing energy, the project will also help educate both students and the public about solar power through use of its web-based, real-time system monitoring that hosts a display of the system's ongoing production.
"Seeing the interest in solar technology and the commitment Parker Elementary has demonstrated in educating its students on renewable energy is commendable. We couldn't be happier to see our solar modules featured in this project. Our team finds great value in educating America's next generation of solar leaders," said Sam Martens, Mission Solar Energy's commercial operations director.
Details on new AC, heterojunction solar modules from Mission Solar
The Parker Elementary School Solar Farm stands out from other projects that are marketed as community solar farms since the entire project is owned by the school district. According to Edgefield School District, as a result of this direct ownership, all of the county's citizens receive the economic benefits of his or her indirect "share" of the project – a practically "net-zero" energy budget for this large elementary school, and a cleaner environment.
"Southern View Energy's work as both the design/build firm and project funding coordinator for the Parker Elementary School Solar Farm underscores our commitment to helping entities like Edgefield School District make larger-scale, financially stable renewable energy projects a reality at a truly local level," said Scott Earp, president of Southern View Energy.
— Solar Builder magazine
[source: http://solarbuildermag.com/projects/south-carolina-school-district-adds-515-kw-system-featuring-mission-solar-modules/]