SMA America's Sunny Boy system
SMA America microinverters have a focus on reliability, monitoring and ease of installation
For modular PV systems, SMA America's new Sunny Boy 240, in combination with the Sunny Multigate, is an ideal solution. As a result of its modular design, systems equipped with the Sunny Boy 240-US, the Sunny Multigate-US and the Sunny Multigate XT can be realigned and upgraded at any time — for structural modifications, capacity expansion or financial circumstances. The Sunny Multigate XT is specifically designed for outdoor use and is a robust, turnkey component with up to four preinstalled Multigate devices.
The Sunny Boy 240-US microinverter eliminates the need to bring extra grounding conductors or grounding devices in contact with the enclosure during installation, a feature that saves time and money and complies with UL 1741 certification for inverter electrical grounding. A unique thermal design concept keeps the system running smoothly even under harsh rooftop conditions.
The Sunny Multigate-US is the link between the microinverter and the power distribution grid and provides an electrical interface to the main service panel, networking support for panel-level monitoring and diagnostics. It allows for fewer components to be exposed to heat stress under the module, which leads to an improvement in communication reliability.
The Sunny Boy 240-US features a variety of DC plug-in options, including MC4 and Tyco, and AC wiring is made easy with preassembled plugs and connection cables. The turnkey setup of SMA's Sunny Boy is designed for maximum flexibility and simplicity.
For more information, visit www.sma-america.com.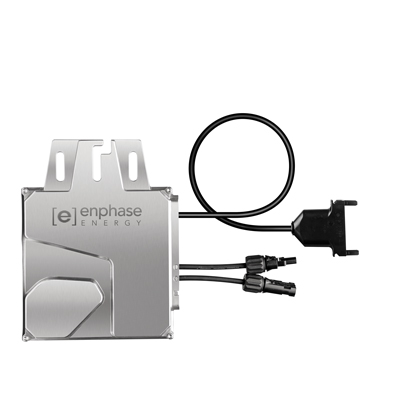 Enphase M215 to C250 series
Reliable components to match a variety of residential and commercial installs
Enphase microinverters combine reliable components with a distributed architecture that makes for a more resilient system vs. a string inverter setup for certain applications.
The Enphase M250 microinverter delivers increased energy harvest and reduces design and installation complexity with its all-AC approach. With the M250, the DC circuit is isolated and insulated from ground, so no ground electrode conductor is required for the microinverter. It can be used in residential or commercial installations.
The Enphase C250 microinverter increases overall energy harvest and system availability along with substantial reductions in material and labor costs. Used with a transformer, the C250 microinverter system meets the needs of medium and large commercial installations where power distribution is 277 V/480 WYE or medium voltage. With support for both 60- and 72-cell modules, the system provides a flexible, operationally efficient and cost-effective solution across all commercial project segments.
The Enphase M215 microinverter with integrated ground delivers increased energy harvest and reduces design and installation complexity with its all-AC approach. With the advanced M215, the DC circuit is isolated and insulated from ground. Its primary use is residential.
Each of these integrate seamlessly with the Engage Cable, the Envoy Communications Gateway and Enlighten, Enphase's monitoring and analysis software. Coming soon is the Enphase Energy Management System, which will offer a next-generation, smart grid-ready Enphase microinverter, plug-and-play storage, advanced control capabilities and load management.
For more information, visit www.enphase.com.
APS America's YC series
An increase in power allows for maximizing efficiency
The APS microinverter solar solutions combine highly efficient power inversion with a user-friendly monitoring interface to bring you reliable, intelligent energy.
The APS flagship microinverter product is YC500A — a grid-tied microinverter with intelligent networking and monitoring systems with a focus on maximum efficiency. The YC500A handles up to 310-W modules with negligible clipping, delivering 250W AC per module with dual MPPT. Half the inverters and half the installation can mean real cost savings for residential and commercial customers.
The APS YC1000 is a true three-phase solar microinverter, handling commercial grid voltages of 208, 277 V/480 with 900-W maximum output, ZigBee communication and an integrated ground. Each YC1000 supports up to four solar modules.
The microinverter products are then tied to the APS Communicator, an energy communication unit (ECU), that is an information gateway. It collects and transfers module performance data in real time, providing comprehensive monitoring and control over each individual module, optimizing performance of the solar array. With the APS Monitor, monitoring takes place around the clock through any web-enabled device. This web-based software detects and alerts the user to any performance issues.
Visit www.apsamerica.com for more information.
— Solar Builder magazine
[source: http://solarbuildermag.com/featured/spotlight-microinverters/]