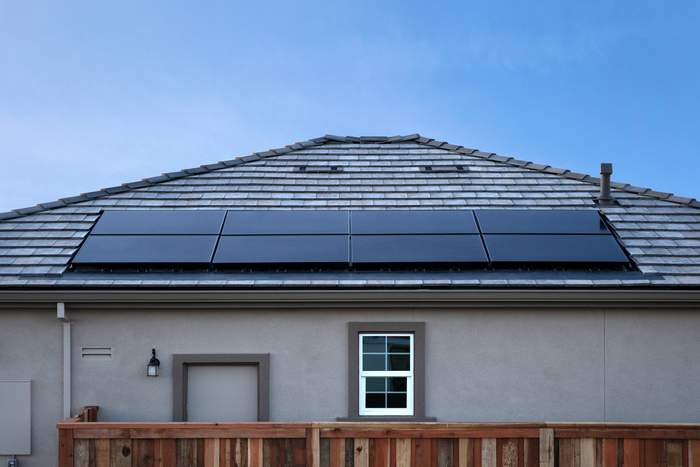 KB Home will be the first homebuilder to offer SunPower's new OneRoof product at its Ashbury new-home community in the San Francisco Bay Area. The first-of-its-kind SunPower OneRoof system is being pitched as a durable, attractive and cost-effective solar roofing product for the new-home market.
KB Home has been into solar homebuilding for nearly 15 years. The company was one of the first national homebuilders to offer solar, well before solar became a requirement of the California Energy Code. In 2011, KB Home partnered with SunPower to introduce the homebuilder's first all-solar community, taking an early leadership position in the industry and developing an enduring partnership in the process. SunPower has been serving homebuilders for 15 years, installing 50,000 new-home solar systems and leads in this segment, with more than 50 percent market share.
"OneRoof is an innovative solution for homebuilders working to meet California's new-home solar mandate, as well as for other states that are considering similar policies," said Tom Werner, SunPower CEO and chairman of the board. "Given our place in the new-home market, investing in the development of a complete integrated solar system to benefit homebuilders was a priority, and we plan to incorporate OneRoof into all new-home installations."
Product details
During the past 18 months, SunPower's Research and Development team collaborated with KB Home to develop SunPower OneRoof. The innovative new product features interlocking metal roof trays with integrated panel clips to install SunPower solar panels directly to the roof deck. This is designed to create a watertight, impermeable solar roof. It is designed to install faster and easier than traditional rack-mounted solar systems and has passed UL tests, including the Class A Fire Rating for building-integrated solar racking.
Solar's Fastest Attachment
Damaging roof shingles used to be one of solar installers' worst challenges. Now, the easy, affordable solution is NanoMount

, SunModo's newest solar mounting innovation. Learn more here.
The aesthetically pleasing solar roof was designed specifically to meet the needs of California new-home solar communities and replaces concrete tile roofing materials.
"We are proud to have paved the way by providing energy savings potential to thousands of our homeowners through renewable solar power, which helps to lower their overall cost of homeownership and enables them to enjoy a more sustainable lifestyle," said Jeff Mezger, Chairman, President and Chief Executive Officer of KB Home. "Early on, we recognized that, through innovation and partnership with SunPower, we could create a winning solar combination for our homeowners."
To date, KB solar homes have produced an estimated total of 428 million kilowatt hours of electrical power, reducing CO2 emissions by an estimated 668 million pounds—the equivalent of removing over 64,000 cars from the road for an entire year.
— Solar Builder magazine
[source: https://solarbuildermag.com/news/sunpower-kb-home-debut-oneroof-a-solar-pv-system-designed-for-new-homes/]