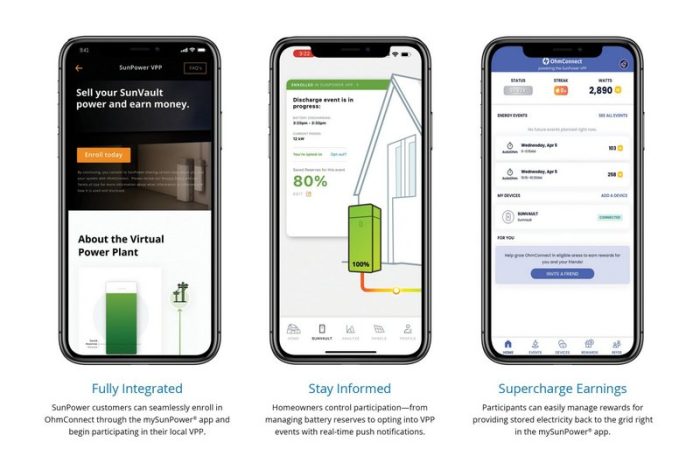 SunPower launched a new virtual power plant (VPP) offering for its customers across California via OhmConnect. Homeowners in select locations with solar and SunVault battery storage can connect with OhmConnect directly through the mySunPower app to earn rewards for managing their electricity use during periods of peak demand.
SunPower and OhmConnect's VPP helps homeowners make money off the energy stored in their SunVault battery. OhmConnect tracks energy prices and demand in real time and helps customers reduce their energy use when prices and demand are greatest. This automated process can provide SunPower customers even more value for their SunVault storage system by rewarding them for reducing load on the grid.
"With the rise of virtual power plants, it is much easier for residential customers to get rewarded for helping us make the grid more resilient," said Cisco Devries, CEO, OhmConnect. "With our SunPower partnership, OhmConnect can expand the ecosystem of homes that leverage the energy they generate to help stabilize the increasingly vulnerable grid."
This is especially important for California solar + storage customers under the state's new net billing era.
Using the mySunPower app, California homeowners with SunPower solar and SunVault battery storage can easily enroll in OhmConnect's platform. Once enrolled, the SunVault system is set to automatically dispatch power from the homeowner's battery during times of heavy grid use, while retaining a fixed amount of energy to meet their home's energy needs.
The interface puts homeowners in full control with real-time push notifications before, during, and after the battery is leveraged, with the option to opt out or adjust battery backup reserve levels at any point. By integrating the SunPower and OhmConnect experience into one platform, homeowners can conveniently manage their VPP activity from battery reserves and discharge history to earnings.
"VPPs are primed to go mainstream as battery storage becomes more accessible, energy prices continue to soar and the grid is continuously overtaxed by fires, heatwaves, and even rain," said Ellen Kinney, Vice President of Digital at SunPower. "Our work with OhmConnect simplifies the homeowner experience by making enrolling easy and automating participation in major savings events. Removing manual steps and complex barriers for participation will be the key to helping virtual power plants reach their true potential and create a more resilient grid powered by the sun."
— Solar Builder magazine
[source: https://solarbuildermag.com/news/sunpower-offers-vpp-option-for-california-customers-via-ohmconnect/]