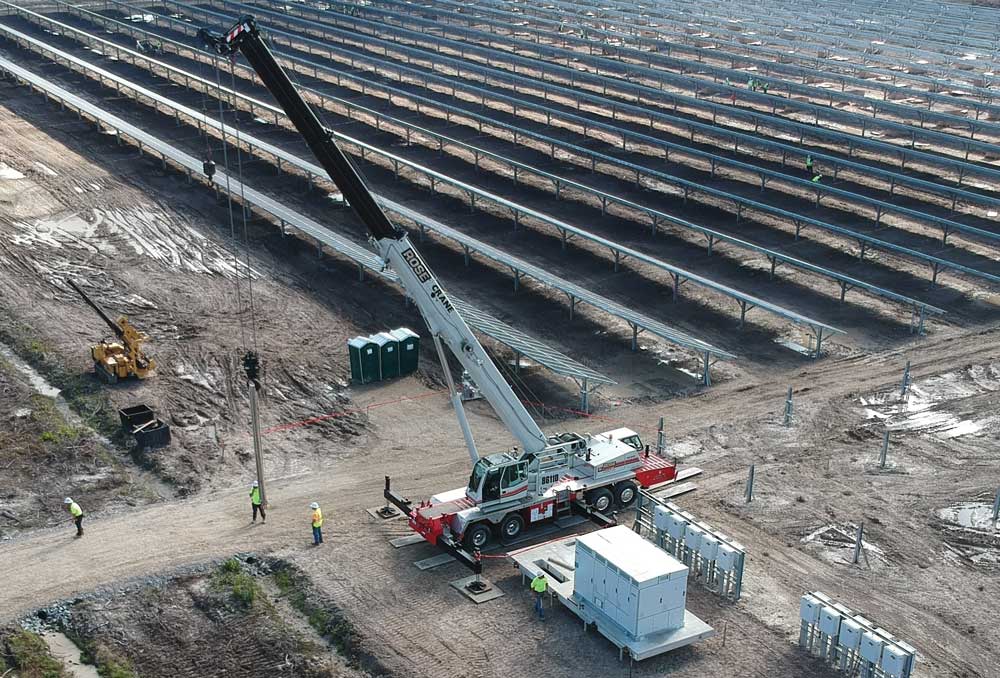 Permanent, reliable generation is the ultimate goal of any microgrid development. Without support, the weight of the equipment and pads/skids will cause sinking and tilting of the equipment that could result in system failure. In many areas, these installations must also be secure enough to withstand the possibility of extreme weather, such as hurricanes and flooding. Soil conditions also play a significant role in microgrid stability.
In locations where soils are soft or porous, the kind of deep, underground support provided by cost-effective helical piers is essential to microgrid transmission reliability for the life of the project. Without such support, these projects face the possibility of service interruption and long delays while remediation is performed.
Situation
In 2016, Entropy Solar Integrators noticed that inverter and transformer pads at its Snow Camp, N.C., generation facility began to show signs of settlement. These pads support heavy equipment essential to transmitting current created by the solar panels. They are connected with wiring to these panels, which means the stability of the pads that support them affects the functionality of the facility as a whole. Within a year of its completion, nearly all of the facility's pads sank between 1 in. and 3.5 in., which threatened the wiring that connects the equipment to the solar arrays, as well as the inverters' and transformers' mechanical equilibrium.
Scope of work
Entropy called on Cantsink for a solution. Cantsink has more than 30 years of experience in permanent underground support for foundations and other construction, including equipment pads/skids for utility-scale solar installations. Cantsink manufactures its patented helical piers from 100 percent U.S. steel in its net-zero-energy facility powered with solar. These helical piers are self-verifying, which means there is no guesswork, so developers, owners and installers know the support is sufficient for its load. Plus, Cantsink can be installed under existing infrastructure with minimal disruption to the site.
This site contained four concrete pad groups in need of remediation surrounded by gravel backfill. The pads, in groups of twos and threes, were placed within 12 in. of each other to consolidate the equipment groups they support. To halt the settlement and restore the equipment to permanent alignment, Cantsink installed its patented helical piers topped with underpinning brackets below the pads. Cantsink's fast and easy installation (never needing concrete, which can add time to an installation) was especially important for this site. Work had to be completed before the oncoming Hurricane Matthew made landfall. Pier insertion depths ranged from 17 ft to 28 ft and 20-ton-capacity hydraulic jacks were used to transfer the loads while achieving lift.
Anchor system
Fifty-two 2.5-in. schedule 40 piers with load capacities of 60 kips.
Standard underpinning brackets.
All materials made of galvanized steel.
Result
The equipment pads at the Entropy project, successfully restored to level stability in five days, not only survived Hurricane Matthew, but also hurricane effects from Maria, Florence and Michael in 2017 and 2018. Year after year the pads have remained stable, which ensures the equipment continues to operate optimally through the facility's life.
The evolution of solar generation and microgrid technology now makes equipment pad stability increasingly central to generation productivity. Pad support can be an inexpensive enhancement during the construction phase to ensure equipment stability throughout the life of the project.
---
FYI: Russelectric's Emergency Power System offers redundant PLC controls
Russelectric, a manufacturer of automatic transfer switches and power control systems, now offers an Emergency Power System that provides backup power during a utility power loss. The paralleling switchgear systems offer redundant programmable logic controller (PLC) controls and manual backup capability.
Russelectric paralleling systems incorporate dual, redundant, hot synchronized PLCs for system control. The unique system design allows manual start and synchronization of generator sets if automatic controls malfunction. Discrete switches, meters and control devices are standard to allow manual control capability in the event that both system PLCs fail.
Designed for maximum safety and operating simplicity, the systems are supervisory control and data acquisition (SCADA)-capable. A 23-inch LCD HMI touchscreen display enables operators to view system one-line diagrams, alarms and setpoints. Load demand sensing determines the number of engine generators in operation based on the loading. The system permits first priority loads to transfer to the connected engine generator set, while delaying the transfer of lower priority loads until additional generator capacity has been connected. Lower priority loads then transfer to the emergency power system as generator sets are added to the bus.
— Solar Builder magazine
[source: https://solarbuildermag.com/bos/support-group-how-entropy-solar-integrators-saved-their-sinking-snow-camp-n-c-microgrid/]