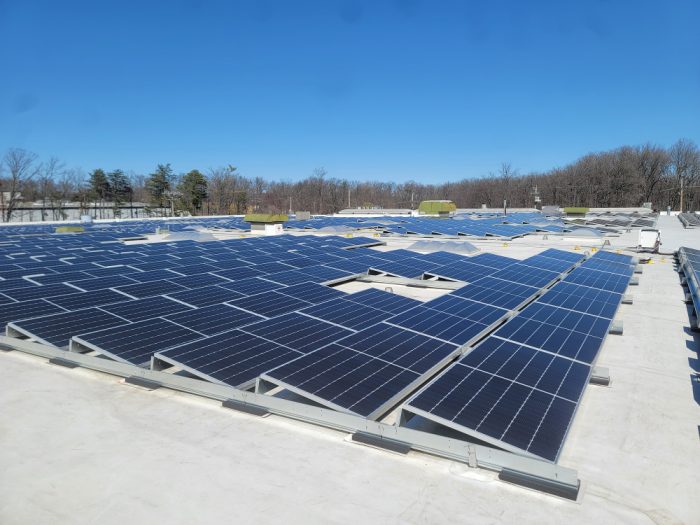 Tate Inc. and DSD Renewables have completed the installation of a 561.12 kW solar rooftop system at Tate's facility in Jessup, Maryland.
Tate is a leading manufacturer of raised access floors and data center management solutions. The company's products include concrete and steel raised floor panels, structural ceilings and data center containment and infrastructure distribution solutions.
The newly installed rooftop solar system will generate an estimated 700,000 kWh of energy annually, which will be used to power welders, lighting and other machinery to support the company's manufacturing processes. In order to reach this level of generation, the panels cover roughly 50,000 square feet of the building's roof.
"Sustainability is a core value for our business, and we've made it a priority to implement processes and systems that will help us achieve our environmental goals," said Daniel Kennedy, general manager at Tate. "The solar PV system was an obvious next step for us in achieving those goals and reducing our environmental impact."
As a division of Kingspan, Tate is part of the company's ambitious 10-year global sustainability program, Planet Passionate. All Kingspan companies throughout the world participate in the initiative, which aims to impact three major global issues: climate change, circularity and protection of our natural world. The solar PV system was installed as part of the Planet Passionate program and the energy generated at the Jessup facility will account for about 55% of the building's total energy use. Other Planet Passionate initiatives that Tate is implementing include the elimination of all company waste being sent to landfill, which was achieved in 2020, rainwater harvesting at its Red Lion, PA, facility and making the conversion to all electric company cars.
"We are honored to have partnered with Tate on their solar rooftop installation," said Jason Chiang, senior director of commercial origination at DSD. "The completion of this project demonstrates Tate's commitment to renewable energy, and we are proud to have played a role in helping them towards achieving their sustainability goals."
— Solar Builder magazine
[source: https://solarbuildermag.com/projects/tate-inc-installs-561-12-kw-of-rooftop-solar-at-maryland-facility/]