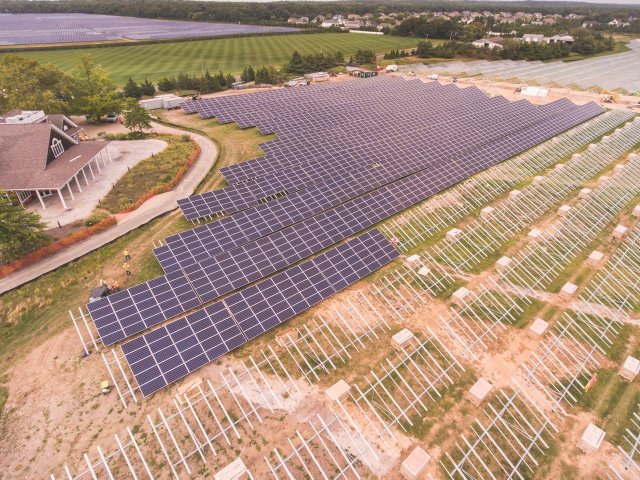 The second largest solar project in the state of New York, Shoreham Solar Commons, was completed last month by TerraSmart. Situated on a former golf course, Shoreham will produce 24.9 MW AC of photovoltaic energy for the town of Brookhaven assisting the local utility, Long Island Power Authority, in reaching New York's 2030 fifty-percent clean energy goal.
TerraSmart was chosen by Shoreham's general contractor, Eldor Electric, because of the velocity of its installation methods and the ability to save time and money on civil and site work. Unique in that Shoreham was built on a former golf course, the land had an intense irrigation system. TerraSmart's unique steel forged tip on its ground screws penetrated through the irrigation lines thus saving time, money and eliminating the need for site grading. For Shoreham Solar Commons, TerraSmart combined its turnkey services of site surveying, foundation installation, ground screw installation and the Terrafarm racking system.

"There were many underground challenges for this project and TerraSmart's dexterity to handle any unforeseen circumstances positioned us as the right choice when it came to mitigating any and all potential site uncertainties," says TerraSmart CEO Ryan Reid. "With our ability to install faster and exceed the construction timeline, TerraSmart was pleased to have placed Shoreham Solar Commons ahead of schedule."
Shoreham Solar Commons is situated on 150 acres of land that is now repurposed to produce clean energy for up to 3,500 homes in the town of Brookhaven while eliminating 29,000 tons of harmful greenhouse gas emissions per year.
For eight years, TerraSmart has been a leader in solar racking, engineering, design and manufacturing of turnkey, ground-mount racking solutions for commercial-to utility-scale solar projects. Bringing more than thirty years' experience in structural engineering and steel fabrication, TerraSmart has built over 1.8 GW's of ground mount projects across the United States.
TerraSmart's innovative ground screw foundation and racking systems have transformed the solar industry by minimizing project risks, ensuring successful installation in all soil types and offering the most cost-effective solutions. For more information, visit www.TerraSmart.com.
— Solar Builder magazine
[source: https://solarbuildermag.com/news/terrasmart-completes-new-yorks-second-largest-solar-project/]