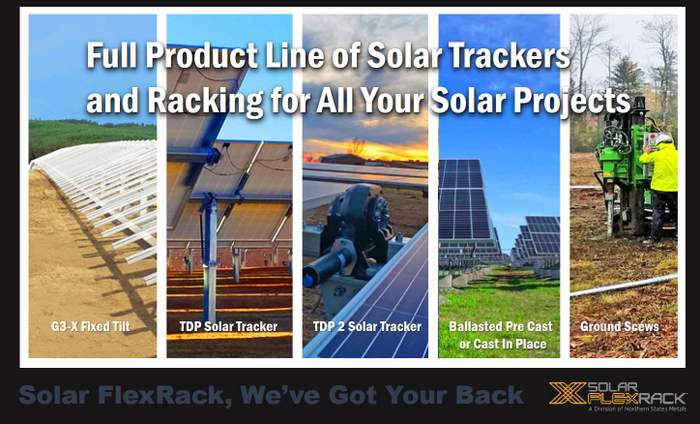 Solar FlexRack, a division of Northern State Metals, promotes its diverse offering of solar racking systems and turnkey engineering services as a way for solar EPCs to grow their own businesses. Today we dig into that Pitch with Steve Daniel, EVP of Sales and Marketing for Solar FlexRack. How can an EPC, developer or independent power producer build up its business by utilizing the right racking provider? How do you put a value on these services and what are the big trends in this space?
As an example of a partnership that simplifies life for the EPC:
"We worked with a company who is doing 14 sites in Illinois and it was a combination of fixed tilt, TDP and TDP 2.0 trackers, so they used the full product line. We went through a contract negotiation with them and once those were in place it was very easy to execute each one of these projects as they came along. And we also brought a strong services offering too … we coordinated all of the geotech reports, we sent people out to the sites, and once we delivered the products we sent somebody out to train people to install both the trackers and fixed tilt."
Daniel also says it helps if the racking company is engaged as early as possible, to the point that they are now working with developers and independent power producers at the very outset"
"It's to help set the table to say this is the product you should be looking at, these are the designs you should be looking at … you don't just throw out a quote and say this is the system and this is the price. We actually engineer the system, so from day one we have civil engineers, mechanical engineers, structural engineers, chemical engineers, geologists .. a full array of services we bring to the initial analysis. So when we produce our first configuration and quotation, that's a buildable system."
Check out the full Pitch for yourself right here:
The Pitch is a Solar Builder side project connecting solar professionals straight to solar PV system and service providers. We explore their new ideas and chat awkwardly about their innovations so you don't have to.
— Solar Builder magazine
[source: https://solarbuildermag.com/featured/the-pitch-finding-extra-value-in-a-solar-racking-partnership-with-solar-flexrack/]