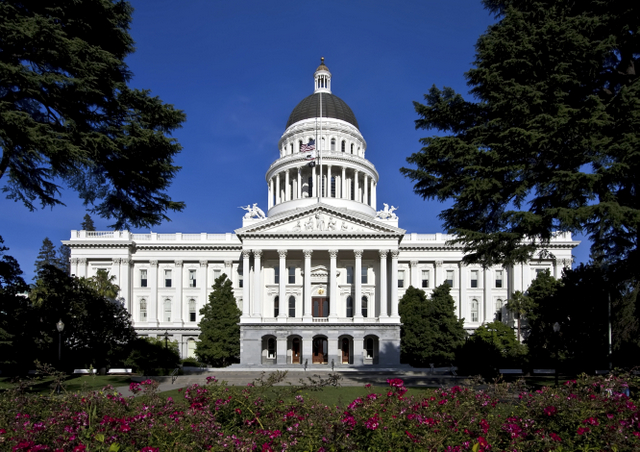 The California Legislature is being commended again for its support of solar energy, passing a bill last week to make it easier for businesses, schools, nonprofits and municipalities to access solar. In turn, this will help generate thousands of new jobs and millions of dollars of investment in the state.
"California has long been our nation's leader in solar energy, but many of its businesses and schools face practical barriers to adopting solar," said Sean Gallagher, SEIA's vice president of state affairs. "This bill provides an innovative, yet commonsense solution that will unlock access to local clean energy for these organizations, while creating thousands of jobs in California. We thank Sen. Wiener for his leadership in advancing California's solar economy."
The bill would require the PUC …
to require each large electrical corporation to establish a tariff or tariffs that provide for bill credits for electricity generated by eligible renewable generating facilities and exported to the electrical grid to be credited to electrical accounts of nonresidential customers of the corporations. The bill would require the commission to ensure that the credit reflects the full value of the electricity from the eligible renewable generating facilities and the credit is established using the same methodology that as used to determined credits under the standard contract or tariff for eligible customer-generators.
The legislation expands access to offsite solar projects for non-residential customers, by allowing them to partner with already-developed sites – such as parking lots, warehouses, brownfields and landfills – and use those sites for solar energy that the local community can access. The bill, SB 1399, was authored by California Sen. Scott Wiener, who represents San Francisco and parts of San Mateo County.
"To meet our aggressive renewable energy goals, California needs to dramatically expand solar, including maximizing use of our empty rooftops and other developed spaces that are ripe for solar," said Senator Wiener. "However, these locations sometimes have no need for solar power and therefore sit unused, while other energy customers want to access renewable energy but have no space to install solar. SB 1399 brings these two groups together – supply and demand – to drive an increase in solar installations in urbanized areas throughout California. SB 1399 will spur the generation of more clean energy and create more good-paying solar installation jobs in communities throughout our state."
10 predictions for community solar in 2018 via Clean Energy Collective
California has an abundance of previously developed sites — 35,000 acres in total, including 20,000 in disadvantaged communities — that could provide ideal locations for solar energy. This bill establishes a pathway for non-residential customers to take advantage of clean energy and enhance both the built environment and the local economy.
SEIA urges the California Legislature to pass this bill, and allow solar to deliver more clean, reliable, affordable power to businesses, schools, public agencies and nonprofits in the state.
— Solar Builder magazine
[source: http://solarbuildermag.com/news/this-california-bill-expands-access-to-solar-energy-generated-by-already-developed-sites/]