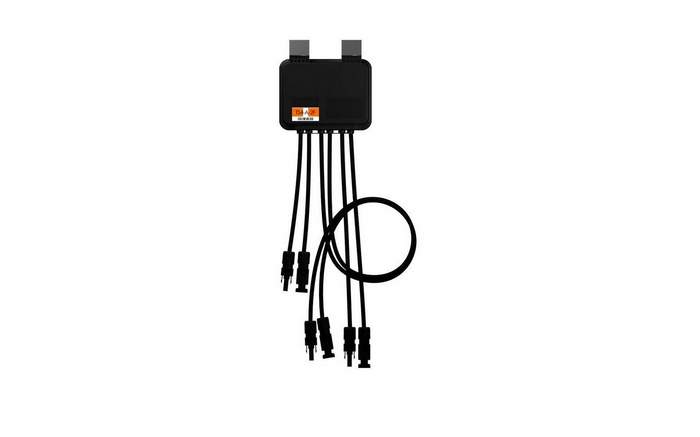 Tigo Energy released a new TS4-A-2F (Fire Safety) at Solar Power International this year — the same advanced retrofit/add-on rapid shutdown solution as the TS4-A-F, only this version can serve two modules at once.
The UL-certified TS4-A-2F complies with NEC 2017 690.12 Rapid Shutdown specifications when installed with Tigo's UL-certified RSS Transmitter or an inverter with Tigo's built-in RSS Transmitter. The unit's powerline communication can be easily verified with Tigo's RSS Signal Detector.
System owners can ensure safety by upgrading existing PV systems or by adding these safety features to new installations. With this improved lightweight hardware, lower labor costs, and application for two modules, the TS4-A-2F is quickly becoming the most adopted rapid shutdown solution in the industry.
The highlights of TS4-A-2F include: 
Maximum Total Power is 1000W for two modules
Maximum Current is 15A per input
Available as 1500V UL
UL-certified as NEC 2017 Rapid Shutdown Solution
Snap to standard module frame or rack mounting
Module-level deactivation with automatic or manual shutdown
PV array enters rapid shutdown in event of AC grid loss
Powerline communication (PLC) signaling
Smaller unit dimensions with reduced weight per unit by 25%
Reduced shipping costs with 33% more units per pallet
Recessed mounting allows shipments of pre-assembled PV modules
Improved heat dissipation with over-temperature and over-voltage protection
Improved IP68 rating for greater outdoor exposure
Tigo's TS4-A-2F is shipping with module manufacturers and distributors worldwide.
— Solar Builder magazine
[source: https://solarbuildermag.com/bos/tigo-has-a-new-version-of-its-fire-safety-solution-that-serves-two-modules-at-once/]