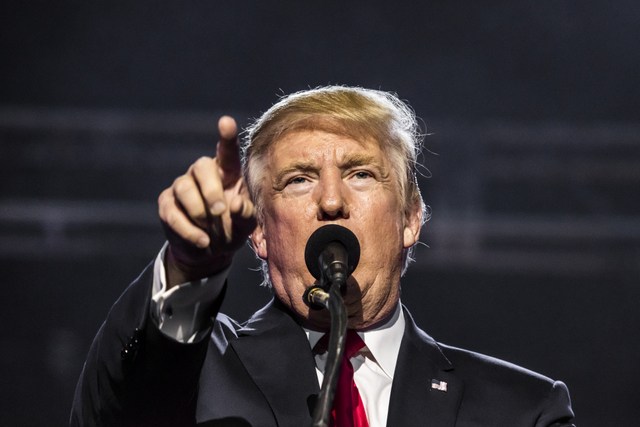 It happened: Yesterday, President Trump's Section 201 trade case decision was announced, and the decision was to impose tariffs on imported solar cells and modules.
The tariff terms
30 percent in year one, with a 5 percent decline each year for four years. These are not as high as the petitioners were asking, but are in line with the recommendations from the International Trade Commission. A nice departure from the ITC recommendations is the 2.5 GW exemption quota, which is set higher than anticipated.

As it stands now, this applies to all polysilicon cell and module imports, with no countries exempted, but the focus in the announcement and in the accompanying fact sheet focused solely on China, so this could change. A statement from U.S. Trade Representative Robert Lighthizer did indicate that talks were ongoing on this front as he "will engage in discussions among interested parties that could lead to positive resolution of the separate antidumping and countervailing duty measures currently imposed on Chinese solar products and U.S. polysilicon. The goal of those discussions must be fair and sustainable trade throughout the whole solar energy value chain, which would benefit U.S. producers, workers, and consumers."
The fall out
Right off the bat, the Solar Energy Industries Association (SEIA) says this decision will cause "the loss of roughly 23,000 American jobs this year, including many in manufacturing, and it will result in the delay or cancellation of billions of dollars in solar investments."
SEIA estimates that a tariff at this level will eliminate, not add to, American manufacturing jobs. There were 38,000 jobs in solar manufacturing in the U.S. at the end of 2016, and all but 2,000 made something other than cells and panels, the subject of this case. Those 36,000 Americans manufactured metal racking systems, high-tech inverters, machines that improved solar panel output by tracking the sun and other electrical products.
The petitioners had cited close to 40 companies driven out of business by unfair import competition, but that list has been refuted since, with only three of those companies able to make that claim.
GTM Research estimated that tariffs imposed at this level were likely to increase solar module costs by 10 to 12 cents per watt, which would then likely slow the market by 8.3 percent.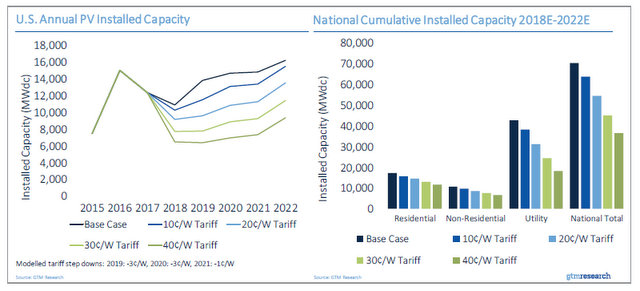 Maybe a bright spot: Don't sleep on the idea of foreign manufacturers opening up shop in the U.S. to avoid these tariffs (because we definitely did at first). The Jacksonville Daily Record has already caught wind of one such plan from an unnamed solar manufacturer seeking 53.9 million in tax refunds to open up shop. Reading between the lines of the info available, it looks like it could be JinkoSolar.
The project summary said "Volt" makes solar panels and modules and wants to hire 800 people in Jacksonville to make and assemble the products, as well as set up a U.S. headquarters, by year-end 2019. Based on the information in the legislation and the status of the solar-panel industry, here's a guess about who it could be: Shanghai-based JinkoSolar Holding Corp.
The reaction
The Trump Administration is obviously excited about this news, releasing it early in the week, and many national news outlets are positioning this as an issue that "split" the solar industry, but you'll be hard pressed to find many voices outside of Suniva and SolarWorld who are that excited. And this includes voices outside of solar and outside of the stereotypical left-wing side of the aisle. Remember, this is a solar industry issue that garnered a wide range of bipartisan support – including the far right Heritage Foundation and talking head Sean Hannity– all in opposition to this decision.
Tony Clifford, chief development officer, Standard Solar: "It boggles my mind that this president – any president, really – would voluntarily choose to damage one of the fastest-growing segments of our economy. This decision is misguided and denies the reality that bankrupt foreign companies will be the beneficiaries of an American taxpayer bailout."
Bill Vietas, president of RBI Solar in Cincinnati: "There's no doubt this decision will hurt U.S. manufacturing, not help it. The U.S. solar manufacturing sector has been growing as our industry has surged over the past five years. Government tariffs will increase the cost of solar and depress demand, which will reduce the orders we're getting and cost manufacturing workers their jobs."
Costa Nicolaou, president and CEO of PanelClaw: "What's most disappointing is that the president sided with two foreign-owned companies and didn't listen to Americans from across the country and political spectrum who understood tariffs will cause great economic pain for so many families in the solar sector."
Michael Maulick, president and CEO of SunLink Corporation: "Artificial price hikes through tariffs only work to impede economic progress when the solar industry has worked for years to make solar affordable through innovation, a global supply chain, production scale growth and private investments," said "While we have always been module agnostic and supported modules of all types, we also believe the power of choice ultimately provides the most flexibility for customers to make utility-scale and commercial solar more pervasive. We remain committed to working closely with the energy industry and our manufacturing peers towards a solution that supports domestic manufacturing and domestic innovation with a global mindset to keep America solar strong."
Paul Spencer, Clean Energy Collection, founder and CEO: "Trade barriers, such as those proposed by the ITC and the one ultimately selected by the president, needlessly make solar more expensive at a time when are seeing record low prices that make solar cheaper for consumers and provide benefits for the global environment. The selected remedy needlessly increases the cost of energy for all Americans."
Abigail Ross Hopper, SEIA's President and CEO: "While tariffs in this case will not create adequate cell or module manufacturing to meet U.S. demand, or keep foreign-owned Suniva and SolarWorld afloat, they will create a crisis in a part of our economy that has been thriving, which will ultimately cost tens of thousands of hard-working, blue-collar Americans their jobs."
Julia Hamm, President and CEO of the Smart Electric Power Alliance (SEPA): "A robust, competitive solar market is essential to the United States' transition to the clean, safe, affordable and resilient energy future that SEPA and all its members are working toward. The President's action in the solar trade case will trigger economic disruptions in many segments of the industry, thus threatening our common vision and the many benefits clean energy can bring to American consumers and businesses."
— Solar Builder magazine
[source: http://solarbuildermag.com/news/trump-imposes-tariffs-on-solar-cell-module-imports/]