Solar is a hot topic around the country as regulators, legislators and utilities all try and figure out the best way to approach this new, disruptive industry. Nearly every state in the union took some solar policy action in Q2 2016 — 42 states and the District of Columbia, to be exact — according to the N.C. Clean Energy Technology Center (NCCETC) in the Q2 2016 edition of The 50 States of Solar. In total, 121 separate actions were taken.
The quarterly series provides insights on state regulatory and legislative discussions and actions on distributed solar policy, with a focus on net metering, distributed solar valuation, community solar, residential fixed charges, residential solar charges, third-party ownership, and utility-led rooftop solar programs.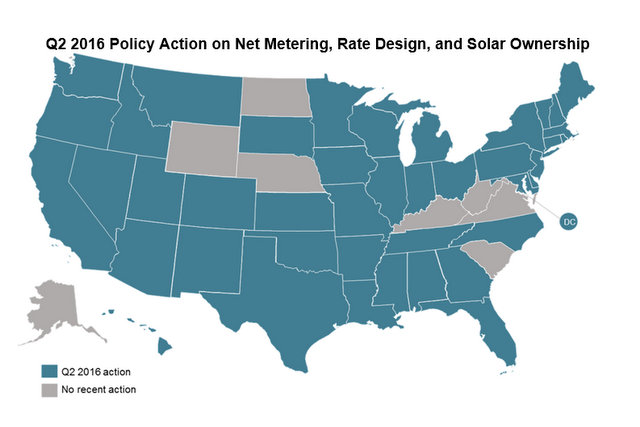 Specifically, the report finds that:
Forty-two utilities in 25 states plus D.C. had pending or decided requests to increase monthly fixed charges on all residential customers by at least 10 percent.
Twenty-four states considered or enacted changes to net metering policies.
Fifteen states plus D.C. formally examined or resolved to examine some element of the value of distributed generation or the costs and benefits of net metering.
11 states took policy action on community solar.
Eight utilities in six states proposed adding new or increasing existing charges specific to rooftop solar customers.
Three states had policy action on third-party solar ownership laws or regulations.
Three states had action on utility-owned rooftop solar policies or programs.

Utility proposals to increase residential monthly fixed charges were the most common type of solar policy and rate design action during Q2 2016, with over one-fifth of all U.S. investor-owned utilities proposing increases of at least 10 percent.
Autumn Proudlove, report co-author and senior policy analyst at the NC Clean Energy Technology Center, noted, "We are seeing no sign of decline in requests to increase residential fixed charges, while residential demand charge proposals have not yet picked up as many in the industry were expecting. However, in over half of the fixed charge decisions made this year, utilities were not granted any increase."
A total of 121 state and utility-level distributed solar policy and rate changes were proposed, pending, or enacted in Q2 2016. The report notes the top five policy developments of Q1 2016 were:
Arizona Public Service proposing changes related to fixed charges, demand charges, time-of-use rates, and net metering;
A net metering compromise being reached in Massachusetts;
Rhode Island passing a bill enabling community net metering and third-party ownership;
New Hampshire becoming the next state to begin developing a net metering successor tariff; and
A ballot initiative being launched to contest the Nevada net metering decision and a recommendation from the Governor's New Energy Industry Task Force that the legislature grandfather existing net metering customers.
"Again, we found a tremendous amount of activity across the U.S. in the last quarter," observed Brian Lips, report co-author and energy policy project coordinator at NCCETC. "Legislatures, commissions, or utilities in almost every state proposed or adopted policy changes that will shape their distributed solar markets for years to come. From direct changes to net metering rules, to rate design revisions, there are many opportunities for state markets to be weakened or strengthened. States that were once dominant in distributed solar adoption may not be dominant in the future, just as states that have lagged behind may quickly jump to the front of the pack."
— Solar Builder magazine
[source: http://solarbuildermag.com/news/u-s-solar-policy-update-42-states-take-action-24-involving-net-metering/]