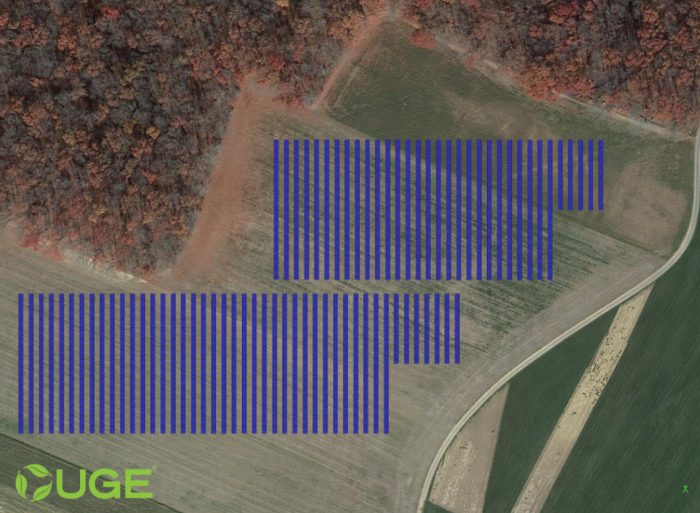 Community solar developer UGE has received the go-ahead to begin construction on two new ground-mount solar projects in Oakland, Maryland. The two projects will have a combined capacity of 5.4 MW — enough to power roughly 1,300 homes.
By subscribing to a community solar farm, homeowners, renters, businesses and institutions are able to access the benefits of solar power without needing to install solar panels on their properties. Subscribers to the Oakland community solar projects will save a minimum of 10% on their electricity bills, a helpful benefit as electricity rates continue to rise across the United States.
Both Oakland projects will join UGE's low-to-moderate income (LMI) program, meaning that at least 30% of the energy generated by the project will be reserved for LMI households. Strengthening renewable energy equity is one of the company's guiding objectives, with a stated goal for more than 25% of the energy off-take from its operational projects to serve LMI households by 2026.
Approval for UGE's two new community solar projects in Maryland comes on the heels of the passage of Maryland's new community solar program by the General Assembly last week.
While the two Oakland projects will be among the last to fall within Maryland's pilot community solar program — expiring at the end of 2023 — UGE has an additional three projects totaling 8 MW in the late stages of development in the state, which will join Maryland's new, permanent community solar program.
Among other favorable changes, the permanent program is designed to be more accessible for all Marylanders, with a requirement that all projects dedicate 40% of their solar generation to LMI subscribers.
In addition to the benefits the Oakland community solar projects will bring to subscribers and the environment, the two Oakland families on whose properties the projects are to be built will receive annual lease payments over the course of 20+ years in exchange for hosting the solar project.
One of the projects will be built at Lucas Landscaping and Turf Farm, which has been in business since 1980 and is the largest sod grower in Western Maryland. The solar project will occupy a small piece of the farm, which will continue operating.
"We are pleased to be diversifying our business, adding a solar farm to our existing turf farm," said Adam Lucas, owner of Lucas Landscaping. "In addition to generating additional revenue for Lucas Landscaping, we are pleased that the solar farm will provide clean and affordable renewable energy to the Oakland community."
The second of the two projects will be built adjacent to a family farm on a piece of land unsuitable for farming due to its history as a limestone mine. By hosting the project, the family will earn long-term lease revenue on a piece of their farm that would otherwise lay fallow.
— Solar Builder magazine
[source: https://solarbuildermag.com/projects/uge-to-break-ground-on-2-community-solar-projects-in-oakland-md/]