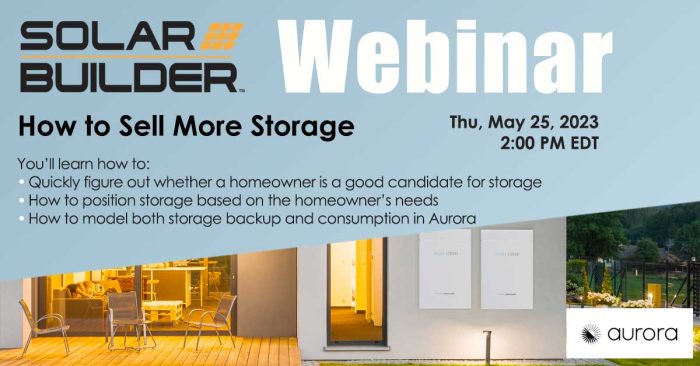 Thursday | May 25 | 2 p.m. EDT
82% of solar installers are noticing an increased interest in storage from homeowners. Whether it's for EV charging, taking advantage of TOU rates, or just peace-of-mind, storage is exploding in interest…but that doesn't necessarily mean sales.
In this webinar, Aurora Solar will share how to position storage effectively when pitching it in your sales proposals. They'll explain how to vary your pitch based on the homeowner's needs and they'll do a live demo of Aurora's new advanced storage modeling.
You'll learn how to:
Quickly figure out whether a homeowner is a good candidate for storage
How to position storage based on the homeowner's needs
How to model both storage backup and consumption in Aurora
— Solar Builder magazine
[source: https://solarbuildermag.com/residential-solar/webinar-how-to-sell-more-energy-storage/]