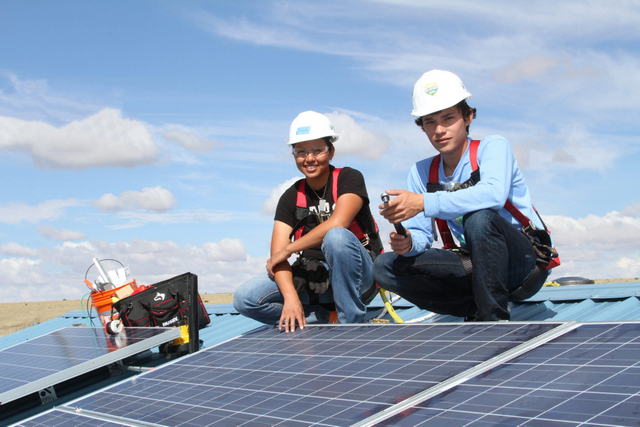 Wells Fargo is committing $5 million over three years to support solar projects in tribal communities across the U.S. The donation to nonprofit GRID Alternatives, a national leader in making solar technology and training accessible to underserved communities, supports the founding of GRID's new Tribal Solar Accelerator Fund. The fund is an extension of GRID's National Tribal Program and aims to catalyze the growth of solar energy and expand solar job opportunities on tribal lands.
"Many tribes are looking to renewable energy to address both environmental and economic challenges in their communities," said Adam Bad Wound, Vice President of Development for GRID Alternatives. "Access to funding is often the biggest barrier to achieving their goals, and we're excited to be able to partner with even more tribes to move their solar PV projects forward."
Support for the Tribal Solar Accelerator Fund is a significant component of Wells Fargo's $50 million philanthropic commitment to help address the unique economic, social, and environmental needs of American Indian/Alaska Native communities that was announced last year. Wells Fargo has been a major supporter of GRID's state- and national-level programming since 2012.
RELATED: Financial floodgate: This new exchange opens up a $5 billion C&I solar financing network
GRID Alternatives' national Tribal Program has worked since 2010 to help tribes achieve their renewable energy goals with solar, while training tribal members to enter the solar workforce. GRID has installed nearly 3 MW of solar capacity in partnership with more than 40 tribes to date. The new fund will expand GRID's work and provide much-needed capital to support the development of new projects around the U.S.
"Our strong relationships in Indian Country and with our Native American customers are a point of great pride at our company," said Mary Wenzel, head of Sustainability and Corporate Responsibility at Wells Fargo. "We are pleased to have such an effective working relationship with GRID Alternatives and to provide the seed funding for its Tribal Solar Accelerator Fund. We sincerely believe that providing no-cost solar and job-training opportunities in tribal communities will address critical needs and accelerate the transition to a low-carbon economy."
The Spokane Tribe in Wellpinit, Washington, will be the first to benefit from the Tribal Solar Accelerator Fund, with a grant that will unlock third-party investment capital and $1 million in matching funds from the Department of Energy for a 637 kilowatt solar project. When complete, the project will provide clean power and reduced energy bills for 14 tribal buildings, including elder housing, community facilities and tribal administrative offices.
"After a near disaster during the 2016 Cayuse Mountain Fire, the Tribe now places a premium on energy self-sufficiency," said Tim Horan, Executive Director of the Spokane Indian Housing Authority. "We expect solar to play a big role in helping us achieve this, and the grant from the Tribal Solar Accelerator Fund was the last piece of the puzzle to make our first big project happen. We're grateful to Wells Fargo and GRID Alternatives."
— Solar Builder magazine
[source: https://solarbuildermag.com/news/wells-fargo-commits-5-million-to-grid-alternatives-tribal-solar-accelerator-fund/]