We repeat from the headline: What is the Decentralized MW Solution? According to Yaskawa – Solectria Solar, the Decentralized MW Solution includes all major system components (inverters, AC panelboards, AC switchboards, AC switches, transformers and/or monitoring).
A customer may purchase inverters and/or monitoring alone or inverters and other system components with optional monitoring from Yaskawa – Solectria Solar. Yaskawa – Solectria Solar will not sell AC panelboards, switchboards, AC disconnect switches and/or transformers as standalone products.
This means all major system components are included in the Decentralized MW Solution, making Yaskawa – Solectria Solar a one-stop solar solution provider.
Here is a rundown of the components contained within said one-stop shop.
Inverters
The PVI 23/28/36TL are three-phase, transformerless, 1000 VDC inverters with an integrated 8 fuse string combiner, eliminating the need for external combiners that are required by competitors. They are NEC 2014 (arc-fault, rapid shutdown), HECO and Rule 21 compliant. These inverters integrate seamlessly with AC Panelboard(s) and/or Switchboards.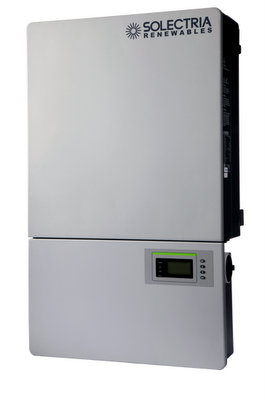 AC Panelboard
An AC panelboard combines all inverters into a common AC bus. It includes individual branch breakers to protect individual inverters.
Switchboard
A switchboard combines individual string inverters or AC panelboards or both into a common AC bus. It has individual feeder breakers to protect individual inverters.
AC Disconnect Switch
An AC Disconnect Switch is an external disconnect that may be located between an AC panelboard and switchboard. It is preferred for ease of access, but not necessary.
Transformer
The transformer steps up the 480VAC output of the inverter to medium voltage. The transformer is closely coupled with the AC panelboard, reducing footprint and wiring costs.
Monitoring
Yaskawa – Solectria Solar's web-based monitoring platform SolrenView provides real-time detailed data of a site's performance. Each SolrenView device can support up to 16 inverters. Multiple SolrenView devices may be integrated on a single site. Monitoring may also be provided by a third-party supplier.
— Solar Builder magazine
[source: http://solarbuildermag.com/news/what-is-the-decentralized-mw-solution-yaskawa-solectria-explains/]