In a joint venture, Kyocera Corporation and Century Tokyo Leasing Corporation announced that Kyocera TCL Solar LLC has started construction of the world's largest 13.7-MW floating solar power plant on the Yamakura Dam reservoir, managed by the Public Enterprises Agency of Chiba Prefecture in Japan for industrial water services.
Scheduled for launch in FY2018, the plant will be comprised of approximately 51,000 Kyocera modules installed over a fresh water surface area of 180,000 sq meters. The project will generate an estimated 16,170 MWh per year.
RELATED: Sonoma County Is Building the Largest Floating Solar Project in the United States 
The project was initiated in October 2014, when the Public Enterprises Agency of Chiba Prefecture publicly sought companies to construct and operate a floating solar power plant to help reduce environmental impact.
With the decrease in tracts of land suitable for utility-scale solar power plants in Japan due to the rapid implementation of solar power, Kyocera TCL Solar has been developing floating solar power plants since 2014, which utilize Japan's abundant water surfaces of reservoirs for agricultural and flood-control purposes.
The company began operation of 1.7-MW and 1.2-MW plants in March 2015 followed by the launch of a 2.3-MW plant in June. With Kyocera Communication Systems Co., Ltd. responsible for construction and Kyocera Solar Corporation undertaking O&M (operation and maintenance) of these projects, the Kyocera Group is cultivating the technology and expertise to construct, operate and maintain floating solar power plants. Here is a map of what they've already done: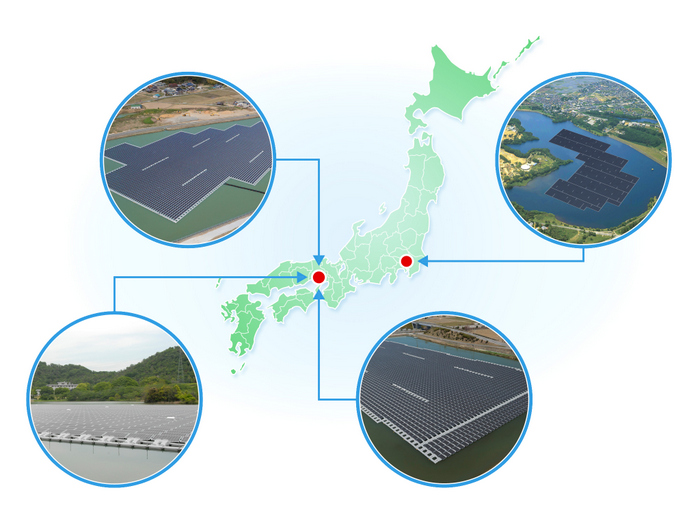 Location
Yamakura Dam

(Ichihara City, Chiba Prefecture, Japan)

Operation
Kyocera TCL Solar LLC
Output
Approx. 13.7MW
Solar modules
270-watt Kyocera modules (50,904 modules in total)
Expected annual power generation
Approx. 16,170MWh/year
Electricity generated is planned to be sold to Tokyo Electric Power Company, Incorporated
Construction timeline
Start of construction: December 2015

Planned launch: FY2018 (fiscal year ending March 31, 2018)

Design & construction
KYOCERA Communication Systems Co., Ltd.
Maintenance
KYOCERA Solar Corporation
— Solar Builder magazine
[source: http://solarbuildermag.com/news/largest-floating-solar-power-plant-japan/]