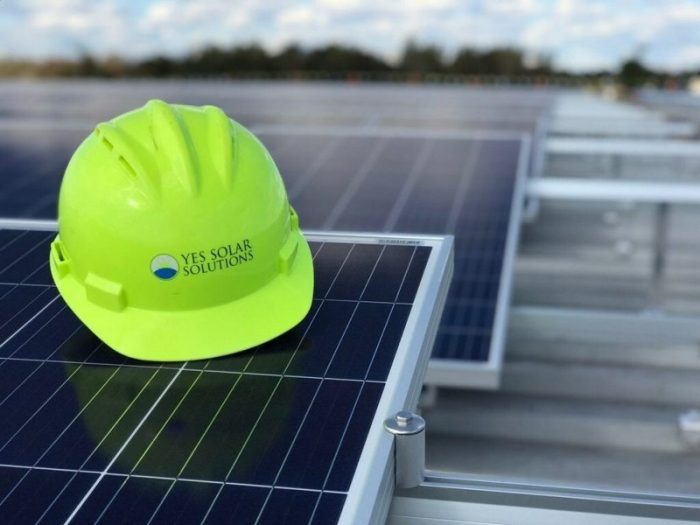 N.C.-based Yes Solar Solutions was the first company on the East Coast to be accredited by the North American Board of Certified Energy Practitioners (NABCEP). Earlier this year, Yes Solar Solutions maintained this commitment — receiving its companywide NABCEP Recertification — and is currently the only solar company in North Carolina that is NABCEP-accredited.
There are only six other companies in the U.S. that hold this accreditation. Yes Solar Solution's latest recertification marks over 10 years of being a NABCEP accredited company, which shows their commitment to superior training, quality, service, and customer satisfaction.
NABCEP Company Accreditation is the most prestigious accreditation that a PV installation company can earn in the renewable energy industry. NABCEP Company Accreditation provides a way for residential renewable energy installation companies to distinguish themselves by adhering to a set of industry-recognized best practices. The accreditation process establishes a set of benchmark requirements concerning staffing and policies.
To qualify for accreditation, a company must meet all NABCEP requirements and pass a minimum of three randomly selected inspections of completed installations. NABCEP's Company Accreditation Handbook provides details about the program including policies, requirements, application procedures, the Code of Ethics for NABCEP Accredited Companies, deficiency and appeals policies, and application and accreditation fees.
Customers can find value in a company with NABCEP accreditation due to the employee handbook, safety policy, training program with documented training hours, OSHA reporting log, number of OSHA certifications within the company, individual NABCEP certifications, quality assurance, customer satisfaction policy, risk assessment, insurance documentation, community involvement, environmental policy, and third-party audit of installations.
Yes Solar Solutions received a perfect score on their third-party audit based on quality, safety standards, training, management, and infrastructure. It's an arduous, time-consuming, and expensive process, but Yes Solar Solutions believes it's 100% worth the effort.
Co-Founder and CEO Kathy Miller believes there is a reason more solar companies do not seek accreditation.
"It is a lot of work, time and cost to put together all the documentation necessary to submit an application, but more importantly, having the policies and procedures, training, quality measures and company management to qualify in the first place eliminates many companies. Our whole team is proud of the distinction of being the only NABCEP Accredited solar installer in NC."
— Solar Builder magazine
[source: https://solarbuildermag.com/news/yes-solar-solutions-reups-on-nabcep-company-accreditation-over-10-years-running/]