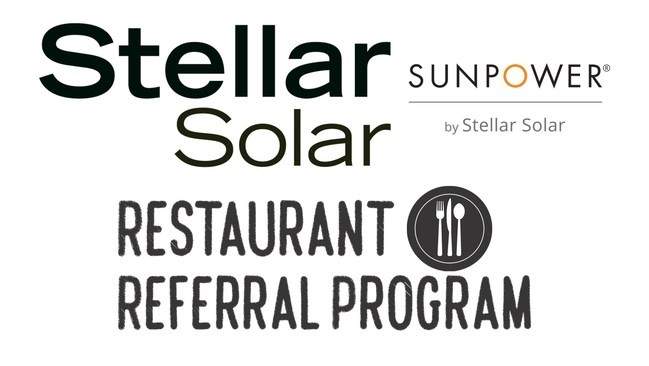 Stellar Solar, one of San Diego's most experienced residential and commercial installers since 1998, has launched a super cool lead-generating marketing program that's also designed to help San Diego County restaurants generate extra revenue — a mutually beneficial concept to help both small businesses during these difficult times.
The program pays participating restaurants $200 per lead and $750 per sale generated for a potential $950 payout, simply for attaching a Stellar Solar flyer to their carryout and delivery orders.
Stellar Solar will provide participating restaurants with custom printed flyers and a unique website address landing page that will allow them to track who the leads come from to ensure the restaurant gets credit. An example is from early program participant Palomar Pizza and Pasta in Vista whose custom URL is www.stellarsolar.net/palomar. The program can be launched in 3-5 days, canceled any time, and extended indefinitely should the restaurateur be happy with its performance.
Stellar Solar has a connection to the San Diego culinary scene through their sponsorship of the Lick the Plate radio show over the years that is hosted by Stellar Solar Vice President of Marketing David Boylan who has interviewed over 500 area culinary industry guests in the nine years the show has been on the air. He proposed the idea to Stellar CEO Kent Harle who was on board immediately.
"We've all seen first hand the struggles and challenges the restaurant community is facing and with our connection to Lick the Plate, this made perfect sense," Harle said. "And to be honest, all businesses, including Stellar Solar are facing their unique challenges generating sales right now. The ones who are quick to react, step outside the box and get creative on how they reach potential customers have a better chance of surviving these uncharted business hurdles we are all facing. If we can do that while giving back to the restaurant community that's just a win-win scenario."
Several San Diego restaurants have already signed on to the program including Palomar Pizza & Pasta in Vista. Owner Jim Klemmer who welcomed the opportunity.
"When Stellar presented me with this program I did not hesitate to jump on board. I'm very familiar with the solid reputation and longevity of Stellar Solar and have been a guest on Lick the Plate which also helped my business so I had no questions about partnering with either of them. On top of that all we have to do is attach a flyer to an order. This program is a no-brainer and I would suggest it to any restaurateurs who could use the extra cash flow."
— Solar Builder magazine
[source: https://solarbuildermag.com/news/covid-19-response-stellar-solar-gets-super-creative-with-this-restaurant-referral-program/]