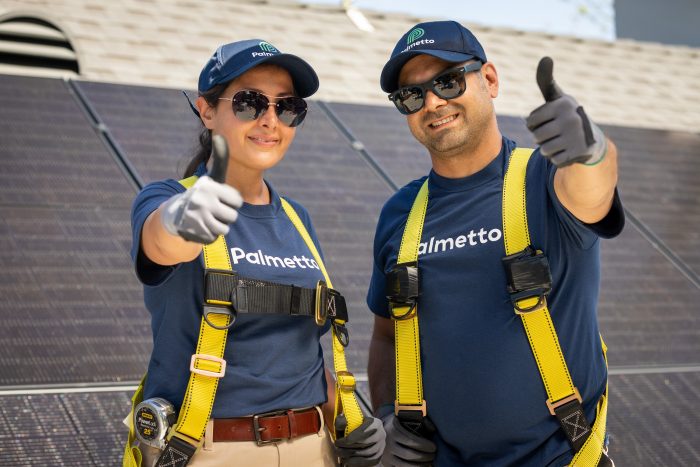 Federal interest rates are at the highest level in 22 years, which has increased solar financing costs and softened consumer demand for solar loan products. Solar businesses of all sizes are feeling the pain of strained cash flows, and struggling with outsized labor costs and reaching profitability as they seek new consumer financing and efficiency options.
The Business Builders section in our Q3 issue explored the many challenges facing solar installation businesses, and highlighted some of the best strategies for overcoming them — ways to stabilize cash flows and grow faster in today's market. This new partnership model offering from Palmetto fits right into that mix.
This new offering bundles Palmetto's smartest tools for solar sales and operations into one integrated package and also allowing installers to become a Palmetto Certified Dealer.
"We believe that this new vertically integrated offering will revolutionize the way clean energy companies do business and help them achieve their goals faster and easier," says Chris Kemper, Founder, CEO and Chairman of Palmetto. "We are confident that this will be the first of many examples that prove the future of mass clean energy adoption is through collaboration and ecosystems."
Palmetto already operates with a network of partners across the U.S. that select from Palmetto's technology tools to aid their businesses in selling and installing residential solar energy. This new vertically integrated partnership model, built on top of Palmetto's Clean Energy Operating Platform, bundles together a comprehensive and integrated suite of tools and services that enable solar installers to streamline their operations, optimize their performance, and increase their profitability.
This new offering transforms Palmetto's current market competitors into B2B business partners, by providing access to Palmetto's sales and fulfillment infrastructure, technology, financing options, supply chain services, customer support and more. Similar to franchise models, businesses are able to leverage Palmetto's successful brand by becoming a Palmetto Certified Dealer, while gaining access to ready-to-use tools to more efficiently serve consumers evaluating clean energy solutions for their homes.
These tools include:
A sales platform system that manages leads, customers, and projects.
Supply chain, warehouse and logistics services, including warranties and maintenance for all assets.
A financing marketplace integrating the most competitive consumer finance offerings
End-to-end fulfillment platform and services for engineering, interconnection, permitting and more.
A day-of-job mobile app to support communications, project photo uploads and accelerated payments.
Data analytics and dashboards providing insights and recommendations.
Appointment and lead setting for digitally-acquired consumers that prefer in-person consultations.
A fully digital customer experience and app giving the consumer an easy, informative process to convert to clean energy.
With this increased operational efficiency, partners become uniquely equipped to offer an elevated customer experience for residential consumer sales and installation through:
Better, market-relevant approach to consumer financing.
Lower cost, more efficient distribution channels, enabling a hybrid digital/in-person sales experience.
Tech-enabled playbooks to ensure efficient growth, as many large solar contractors fall apart at scale, leaving consumers with financially burdensome situations.
Consumer services supporting electrification of the home, plus end-consumer data and insights.
— Solar Builder magazine
[source: https://solarbuildermag.com/news/palmetto-bundles-sales-and-operations-tools-for-solar-installers/]